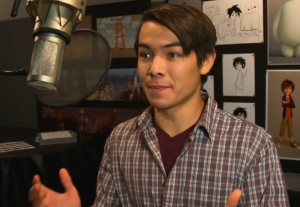 Despite heavy criticism for the lack of diversity in the Oscar nominations, there were a handful of Asian American moments at the awards ceremony.
Disney's Big Hero 6 with its Asian American lead character took the Oscar home for Best Animated feature.

Big Hero 6 is set in the metropolis of San Fransokyo, a stylish blending of Tokyo and San Francisco.
Ryan Potter played the protagonist, young Hiro Hamada. The LA Times: describes Big Hero 6 as "by far the biggest feature ever to center itself on an Asian american protagonist." The movie grossed a half a billion dollars worldwide. Korean American Daniel Henney plays the voice of Tadashi and Jamie Chung is Go Go Tomago.
The opening number composed by Filipino American Emmy, Grammy, Oscar and Tony winner Robert Lopez and his wife Kristen Anderson-Lopez was described by Slate a "clever musical number, complete with the cheek and polish we've come to expect from the host (Neil Patrick Harris)." The Lopez ' last year took home the Oscar for Best Song for Let It Go from Disney's Frozen.
If you missed it, you can check it out below.

The annual tribute to Hollywood greats who died in the past year included actor James Shigeta. In
1959, Shigeta starred in the The Crimson Kimono which featured the first on screen kiss between an Asian American actor and white actress. Two years later, he played the lead in the classic Flower Drum Song.
One of the best diveristy moments of the Oscars happened when Common and John Legend performed Glory from the movie Selma. Its star David Oyelowo who many say was unjustly left off the nominees list for Best Actor cried in the audience. Actor Chris Pine also teared. The performance earned Common & Legend a thunderous standing ovation.
The duo would eventually win the award for Best Song. In his acceptance speech, Common gave a shout out to the Democracy movement in Hong Kong.
Hats off to @common for recognizing 'HK democracy protesters' in Oscar speech http://t.co/z5tc2zhPwd

— Jonathan Sullivan (@jonlsullivan) February 23, 2015
The show opened which a joke by host Neil Patrick Harris who immediately addressed the elephant in the room.
"Tonight we honor the best and the whitest—er, brightest," he joked.