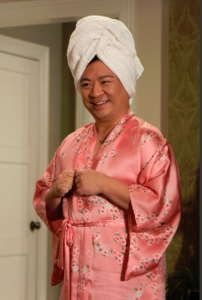 The latest episode of Fresh Off the Boat featuring a love triangle between Jessica's gay ex-boyfriend, her husband Louis and Jessica herself is winning applause from many lesbian and gay Asian Americans.
A panel discussion at the Japanese American National Museum in Los Angeles featured showrunner and executive producer Nahanatchka Khan; Rex Lee who played Oscar Chow, the gay boyfriend in the show; author and comedian D'Lo; and artist and organizer Erin O'Brien. It was moderated by filmmaker Curtis Chin.
Khan explained the entire show has been building up to this episode for some time. A reference to Oscar had to be cut from the pilot due to time, but this episode was set up when Jessica sold a home to a gay couple, but didn't realize they were gay and thought they were best friends.
"We thought it would be funny if she (Jessica) couldn't tell her gaydar was broken," said Khan. "We didn't want to do another story that you've seen. We're really excited. It's a matter of deciding and making it a priority because it's important."
For those on the panel, it was a pivotal moment to see a Gay Asian portrayed on national TV.
"As a queer person of color you just look to see yourself, and for a lot of us, we don't see ourself visible in media," said O'Brien.
"The fact that you have this response of seeing one queer Asian American character in one TV show is a testament that we want to see ourselves in the media."
D'Lo has appeared in several gay themed shows including Looking and Transparent.
"I'm not saying like being Asians equals queer," said D'Lo. "There's something to be said about the family that reflects me. I think the writing is suberb. I was on Looking. I was on Transparent. Both very very white and in Transparent's case, Jewish shows. I feel jazzed when I see people of color on the screen, particularly queer people of color. and this was my favorite episode."
One person, however, in the audience, wondered if Oscar as portrayed by Lee was a stereotypical gay character with his voice inflections and flamboyant mannerisms.
"I am a gay man in real life," said Lee as the audience laughed. "Why was that funny?, he again said to laughter.
"Maybe as a gay man I approach acting a gay character different from a straight actor. I understand what makes me gay is what I do with a man because I fall in love with men. When I play a gay character, I'm not really paying attention to what I'm doing with my hands or voice."
You can hear about the show's popularity with African Americans, how last week's episode tackled the stereotype of the emasculated Asian male, and Fresh Off the Boat's urban and big city following in a video of the entire 35 minute panel discussion below.