(This is the final part of an ongoing series on AsAmNews commemorating the 40th anniversary of the Fall of Saigon and the arrival of Southeast Asians to the United States. )
The statistics  paint one picture, but the Southeast Asian refugees we talked to who landed in the United States to escape communist rule paint another. Today is the 40th anniversary of the Fall of Saigon, the day that marked the capture of Saigon by the People's Army of Vietnam and the National Liberation Front of South Vietnam. For the refugees who have settled in the United States, this country is a land of promise, hope and freedom.
"Life has been more than great here in the US," said Jean Luc who settled in Tacoma, Washington at the age of 16 after time in a refugee camp in Pulau Bidong
in Malaysia. "We found a wonderful home. They picked us up among the masses, gave us all the opportunities for a life which we could never dreamed of: a life of free thinking, free from want, free from persecution, and a platform for the next generation to reach even higher."
Four fact sheets released by the Center for American Progress and AAPI Data, however, are a reminder of the struggles many of these refugees have had to endure.
"Poverty and economic hardship are significant issues," said Karthick Ramakrishnan, director of AAPI Data. " Southeast Asian Americans experienced severe financial hardship during the recession, particularly in terms of home foreclosures and extended job losses.  And poverty rates among these groups is higher than the U.S. average, and much higher than the average for Asian Americans.  Finally, issues of wage exploitation and hazardous work conditions is another issue facing people in businesses like nail salons and other ethnic establishments."
Unlike other Asian American subgroups who were allowed entry to the United States based on their job skills, the refugees were chosen for their devotion to the former South Vietnamese government and the American operation in Southeast Asia during the war.
The share of children in poverty in the United States overall is 22 percent, but in the Vietnamese Americans community its 30 percent, 39 percent in the Laotian and Cambodian American communities, and 54 percent in the Hmong American community.
Overall Southeast Asian Americans lag in educational achievement. 29 percent of Vietnamese Americans lack a high school diploma compared to 13.4 percent in the U.S. It's 32 percent in the Laotian American community, 38 percent in the Hmong American community, and 37 percent among Cambodian Americans.
But in those grim numbers, there's also reason for optimism.
"In terms of their educational attainment, Southeast Asian communities have come a long way in 40 years," said Ramakrishnan. "If you look at their children who were born here, those dropout rates drop below 15%, and more in line with the U.S. average."
For this progress to continue, the retention rate of Southeast Asians who attend college must be improved. According to Ramakrishnan, a fairly high proportion of second generation youth in college drop out. Groups like the Hmong National Development are helping newer generations gain mentoring and this could be a model for other communities. Also Ramakrishnan says making education more affordable so students don't have to work multiple jobs while in college would be a great benefit.
There are currently 2.72 million Southeast Asian Americans living in the United States. They are about 14 percent of the Asian American overall population. The vast majority of Southeast Asian Americans, 1.87 million, are Vietnamese Americans.
That community can point to a number of accomplishments.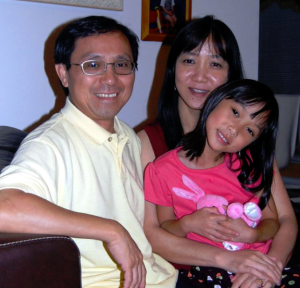 "In 1992, Tony Lam became the first Vietnamese American elected to public
office," said Carina Hoang, a Vietnamese refugee herself and author of Boat People: Personal Stories From the Vietnamese Exodus which is is available from Amazon. "Since then the Vietnamese American community has produced numerous Vietnamese American elected officials at federal, state, county and local
levels throughout the United States, such as U.S. Representative Joseph Cao, Texas Assemblyman Hubert Vo, California Assemblyman Van Tran, California Senator Janet Nguyen, Westminster Mayor Tri Ta, and Garden Grove Mayor Bao Nguyen.
Hoang also points to accomplishments in business and entrepreneurship, science and technology, space travel, medicine, cooking, modeling,
acting, and comedy. Hoang originally settled in the United States, but currently lives in Australia and is now a special representative for the United Nations High Commission for Refugees.
"As an individual, I am most proud of the fact that I did not let my parents sacrifices go in vain," she said. "I furthered my education, developed a good career, contributed to society, and have been able to give back by helping others whenever I can, and be a good role model to young people.
"As a community of refugees, I am proud of the fact that we were able to get back on our feet as quick as we can. We were able to contribute to the countries where we live economically and politically, enriching both culture and diversity."
RELATED STORIES:
Asylum Seeker Thanh Danh's Story of Survival After the Fall of Saigon

How a 10-Year-Old Survived the Fall of Saigon & Made It to The US

Fall of Saigon: 40 Years Later Through the Eyes of A 20-Something Vietnamese American

Child Learns Lessons of War & Survival

Death-defying Journey to Freedom After the Fall of Saigon


Ken Kashiwahara Returns 40 Years Later to Recall the Fall of Saigon