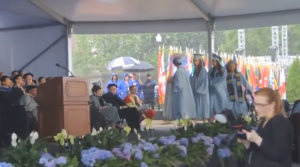 The Asian American student who accused a fellow student of sexually assaulting her took her mattress protest to her graduation at Columbia University, reports the Daily Mail.
Emma Sulkowicz who is Japanese, Chinese and Jewish vowed to carry a mattress everywhere she went at Columbia after the University last year refused to expel the student and the District Attorney declined to prosecute.
Sulkowicz along with two fellow students accused "Paul" of being a serial rapist with each accusing him of raping each of them. Paul said the sex was consensual.
A cheer went up from the crowd as Sulkowicz received her diploma, mattress in tow, as several other graduates helped her carry the mattress on stage. Paul, who was also graduating, was forced to watch.
'The past year of my life has been really marked by telling people what happened in that most intimate and private space,' Sulkowicz told the campus newspaper the Columbian Spectator at the beginning of the school year.
Sulkowicz said the rape occurred during her sophomore year. You can read Paul's response to all this in the Daily Mail.
You can watch her protest at graduation in the video below. An interview with her follows
RELATED STORY