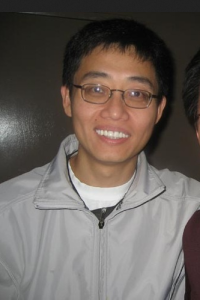 Joe Wong saw his first stand up comedy routine when a friend took him to see an act in Houston back in 2001.
The China-born Wong, 45, didn't understand a lot of the jokes, but according to an excellent profile in NY Times Magazine, Wong instantly fell in love with stand up comedy. He knew right then a career in comedy was for him.
"I was never the funniest, but maybe the second or third funniest," Wong said about his days growing up in China.
By the following year, he was performing at open mike nights in comedy clubs and by 2003, he caught the attention of the David Letterman Show during his performance at the Boston Comedy Festival. Numerous performances on David Letterman would follow. You can watch a performance below. It's worth your time as it's absolutely hilarious.

His gigs on Letterman spawned other invitations to perform on Ellen DeGeneres and then an invitation to perform in front of Vice President Joe Biden at the Radio and Television Correspondent's Dinner in Washington.
Fan mail started pouring in, and Joe noticed much of it was coming from China where his videos had gone viral. That's when he decided to move back to his home country and pursue stand up comedy in a country not accustomed to such acts.
You can read how Chinese audiences are reacting to Wong's brand of humor in NY Times Magazine.