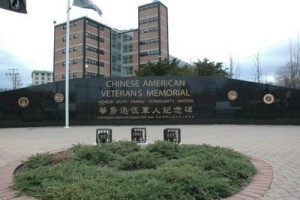 A veteran upset about the deteriorating condition of a memorial meant to honor Chinese American veterans decided to do something about it, reports DNA Chicago.
The Chinese American Veterans Memorial  in Chicago had become overgrown with weeds, and despite media interest pointing out the neglect, the city showed no interest in clearing out the weeds in time for Memorial Day.
Eric Hsieh heard about the city's puzzling response and jumped in his car and drove the two hours from Milwaukee to Chicago with a trunk full of garden equipment. He then got on his knees in the dirt and started pulling the weeds himself.
"I was pretty saddened by it," said Hsieh. "In the past I had noticed there were weeds. I thought to myself, 'If not me, who?"
A woman who lived in a highrise nearby saw what Eric was doing and decided to join him.
You can read about that along with the city's reaction to Eric's actions in DNA Chicago.