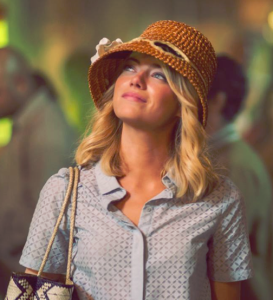 The casting of Emma Stone as a Chinese, Native Hawaiian and Swedish character in Cameron Crowe's Aloha generated its share of coverage in both ethnic and mainstream media.
Yet most of the attention was on a white actress playing an Asian character with few references with her character also being Pacific Islander, especially in the mainstream media, points out a blog by Julie Feng in The Body Is Not an Apology.
The Unbearable Whiteness of Cameron Crowe's 'Aloha': A Hawaii-Set Film Starring Asian Emma Stone, read the headline in the Daily Beast.
I'm not buying Emma Stone as an Asian-American in Aloha, wrote Entertainment Weekly.
WTF 'Aloha': Why Is Emma Stone Asian, and Other Problems, screamed the headline in Complex Magazine.
Pacific Islanders get barely a mention in the articles and certainly not the headlines.
Ask any Pacific Islander and they'll tell you, Pacific Islanders are not Asian.
You can read Julie Feng's break down of each article in The Body Is Not an Apology.