An enthusiastic crowd both laughed and cheered as Randall Park accepted the Visibility Award at the V3 Digital Media Conference in Los Angeles Friday night.
The conference at the Japanese American National Museum is a gathering of Asian American bloggers put on by the Los Angeles chapter of the Asian American Journalists Association.
The founder of the conference Jocelyn "Joz" Wang presented the award and recognized Park's work for his high profile roles on ABC's Fresh Off the Boat, Sony's The Interview, HBO's Veep and Netflix' Wet Hot American Summer: First Day of Camp which debuts July 17.
Park thanked Fresh Off the Boat's executive producer Melvin Mar and TV son Forest Wheeler who both attended Friday night to help him celebrate his achievement.
Park joked he has received quite a few awards, then he invited the 11-year old Wheeler who plays Emery to join him on stage for an hilarious bit you can see in the brief video clip below.
Also receiving an award Friday night was Joe Zee, executive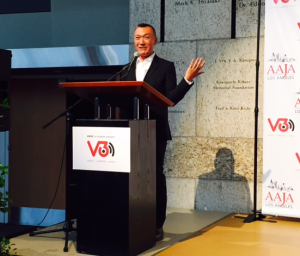 editor of Yahoo Fashion who will debut this fall in the new ABC daytime talk show THE F·A·B" (The Fun and Beautiful). Zee accepted the Voice Award.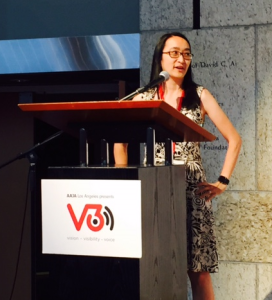 Dao Nguyen, publisher of BuzzFeed, was recognized with the Vision Award.