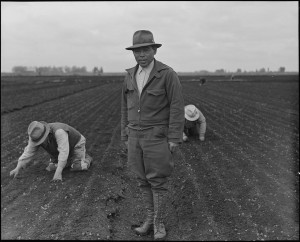 A new statue marking the work of Japanese American produce workers was unveiled in Santa Ana, California. Titled "We Too Were Once Strangers", the statue seeks to acknowledge the work of Orange County's many immigrant groups.

According to the OC Register, the statue is a large replica of celery stalks, cropped at the top(a fitting reference to the produce workers of Southern California). The statue's base also is emblazoned with several elements found in traditional Japanese gardens.

"It is my hope that this sculpture will also serve as an enduring reminder of the many contributions that the Japanese Americans, and indeed all immigrant groups, have made to the culture of Orange County," Richard Turner, curator of the Guggenheim Gallery and creator of the statue, said.

To learn more about the statue, the Japanese American family that farmed the land where the statue sits, and also see a picture of the statue, visit the OC
Register.