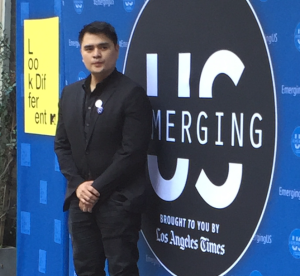 By Jason Fong
As the lights dimmed, the audience in Los Angeles here to see a sneak preview of Jose Antonio Vargas' short film, White People, buzzed excitedly, talking amongst themselves on race, a subject not often discussed between everyday Americans.
Director Jose Antonio Vargas has partnered with Define American(an organization centered around telling the stories of immigrants and of the American identity) to create his film, White People, to be premiered on MTV on Wednesday at 8pm EST.
Vargas' film seeks to open up discussions of race in everyday lives, as it sheds light on white privilege, perceived "reverse discrimination"(especially in the college application process and job market), and the difficulty of newer immigrant groups(including the Asian American community, the fastest growing minority group in America) to assimilate into American society.
"The film puts people of color at the center of our work, not at the margins as so many in American society do," Vargas said.
One MTV spokesperson described the purpose of the work as "getting all people uncomfortable" to talk about race. Or, as one speaker in the film put it, to cross the "barrier that race can act as".
"We want our viewers to look differently at race, gender, and sex, challenge their biases, and discuss what white privilege really is and means," an MTV spokesperson said.
Be sure to catch the film tonight on MTV at 8pm EST and then let us know what you think.