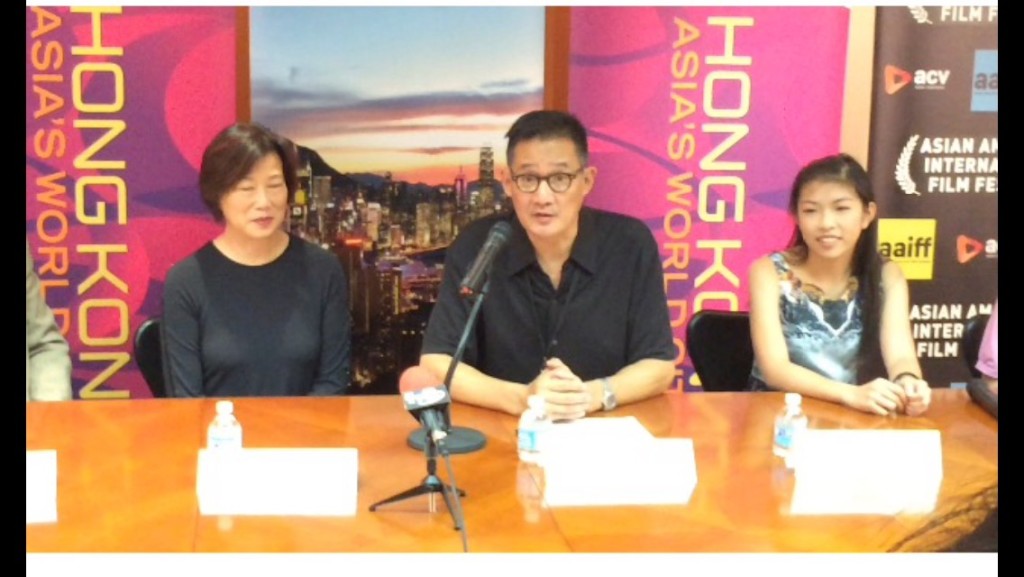 By Shirley N Lew
AsAmnNews New York Correspondent
The Asian American International Film Festival (AAIFF) kicks off its 38th year tonight. A huge genre of films will be shown in Manhattan and Queens at several venues. Tickets are still available.
A new and exciting addition to the line up is Everything Before Us. It is Wong Fu Productions first feature film and will be shown at the closing ceremony on August 1. Their highly popular video series shot them up to stardom with the support of the Asian American community because of its humor and unique approach to the exploration of being Asian American.
Ruby Yang's My Voice, My Life will be featured in the AAIFF's opening ceremony tonight in New York. Yang, a Hong Kong film maker received many accolades for her documentary that follows the lives of underprivileged middle and high school students trying to produce a musical. The film focuses on the students coming together as they overcome their plight as academically and socially challenged kids.
I asked John Woo, the executive director of Asian Cinevision how did AAIFF decide to choose Yang's film?
"When we first read the description of the movie and what was going on in Hong Kong (Yellow Umbrella Movement), we felt this movie was an issue that touched back to our roots and that it paid attention to the youth movement that is going on in Hong Kong today," he explained.
During yesterday's AAIFF press conference at the Hong Kong Economic and Trade Office in New York, I asked Yang, "Did you come across any obstacles or opposition on making My Voice, My Life?"
"I was worried that the students would not tell me the truth because they may not want to talk to an adult. An obstacle we had was a vision-impaired student, whose mother was concerned about letting everyone know that he recently lost his vision, but didn't tell friends and relatives of his situation yet."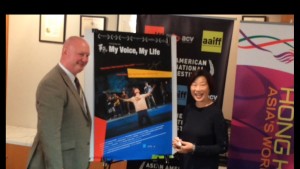 Yang also said that the school and principal was very supportive of the film, but were concerned at first about the how the portrayal of the students might affect their college admissions.
When the students screened the film after it was completed, they were amazed and touched by the other student's life stories in the film.
"They were all crying for about half an hour. The parents didn't think the musical would influence their lives and that they would just forget about it afterwards. Two students that worked on production, behind the scenes went on to film school and half of them went to college, "said Yang. Prior to the film, a majority of the students wanted to work after high school and had no college aspirations.
Were there some things you learned from the students? I asked her.
"They are tough and they taught me slang," laughed Yang. "They are aware of a lot of things and their parents underestimate them."
Lao Wong, part of the festival's short film roundup, is a directed by Ming Zeng (Jenny). Lao Wong is about a man who was once a professional opera singer back in his homeland of China, but is now struggling to put together an opera in New York to recapture the success he once had.
"I am a fan of the NY Chinese Opera Society. I was fascinated that the actors are actually ordinary people. They are grocery workers, nail salon and dry cleaner owners. It's a strong contrast of their real life and their life on stage," said Jenny.
Lao Wong, is just one of many other shorts and 50 films that will be shown during the festival.
To enhance community engagement, Woo said the festival will also present programs in Flushing, Queens Town Hall that includes free screenings of select films and films that have Queens as a backdrop.
View the AAIFF's schedule and to purchase tickets to the films, tonight's opening night gala and the closing ceremony on August 1.
The 38th Asian American International Film Festival (AAIFF), presented by Asian CineVision, is the nation's first and longest running Asian American film festival. AAIFF 2015 honors the contributions Asian and Asian Americans make to film on a daily basis by showcasing new incoming talent, highlighting local filmmakers and paying tribute to the pioneers of the 21st century.
RELATED STORY
Ten days of Asian-inspired films set for Asian American International Film Festival