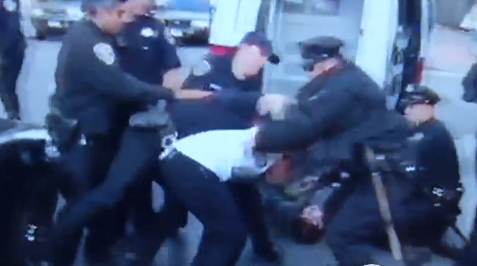 A San Francisco man says he became a target of excessive police force after speaking out on behalf of a woman he felt officers were roughing up.
Tony Nguyen had just come out from the Lexington Club during Gay Pride on June 27 when he said he saw police trying to restrain a woman.
"I said, 'Hey, you're using excessive force. It's really unnecessary,'" Nguyen said. "He tried to slam me down on to the police car. I seen a bunch of the cops joining up, trying to take me down to the ground. The whole time, I'm telling them, I'm not resisting arrest. Like, I'm willing to comply like anything you want me to do you know."
Both incidents were captured by cell phone video.
Nguyen was booked on charges of resisting arrest and assaulting a police officer, but prosecutors decided not to pursue charges.
San Francisco Police have not yet responded to Nguyen's complaint.
You can watch the incident and hear more of Nguyen's account of what happened in the video below.