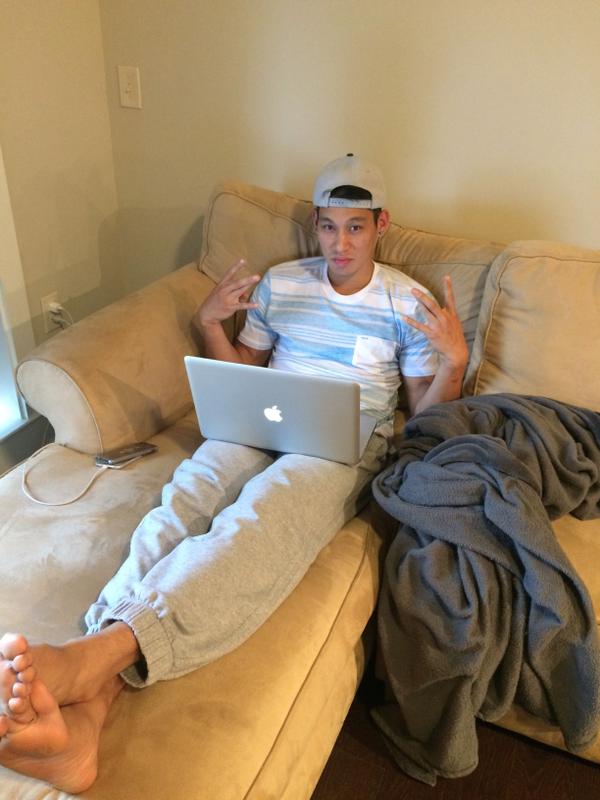 Jeremy Lin talked about everything from his new hair style to his eating binge to his game on Reddit Thursday night in an unannounced Ask Me Anything session, known to the initiated as AMA.
He talked about the framed life sized jersey made from Fruit Loops he got, but what I found most interesting is how often, even today, Lin goes unrecognized.
"It's frustrating that when I try to walk through arenas, they will let in all my teammates but stop me, said Lin. "It just reminds me how far we have to go as a society in terms of racial stereotypes. People made a big deal about the Hornets security not letting me in but that happens multiple times every year on whatever team I'm on."
Incidents like that have been happening since his rookie year with Golden State. He recalls when he was walking with teammates and was mistaken for the trainer or film guy and a fan posed with Stephen Curry and David Lee and asked if Lin would take the picture.
Lin being Lin, he maintains a good-natured attitude about it and even recognizes there's a positive.
"It's nice at times that I'm the same size and I look like a normal dude so I can walk around and not draw the attention that a 7-footer would."
In a video released this week with other players on fitting in in the NBA, Lin sported a new hair do.
It's a do that he's worked out with his brother and friends.
"Basically, me and my little brother were talking one day and we were talking about how we both wanted new hairstyles. Turns out, it was the same one. So we made an agreement to get the same hair," explained Lin.  "We tried to get our older brother in on it, but he looked at us and scoffed so that was that. Then five other of my friends decided they wanted in, so we made a pact between the seven of us to make sure by next summer, we would all have the same hairstyle. So right now its the awkward phase…which is why I'm trying to salvage it by going Super Saiyan.
Lin also gave us the scoop on some of the other players.
You might know that Kobe takes a private helicopter to and from practice and games, but Lin shared that the copter's windows are tinted. He also makes Kobe takes off his shoes when he comes to Lin's home just like everyone else.
He says the "NBA is full of soooo many personalities.  Some of my teammates are unintentionally funny because they are either crazy or not that bright (shh dont tell anyone i said that). But the funniest ones are probably Jared Jeffries and Nick Young."
As you might expect, Lin admits its been tough going from team to team and adjusting to the new cities. Charlotte is his sixth team in five years.
"I actually really like the city. I know during my press conference I said it reminded me of Palo Alto, and I'm standing by that statement. Both are beautiful cities, very quiet, clean and low key. They are both small enough to have the suburb feel but also big enough where you aren't always bored."
There's the adjustment period of moving. He had no internet for 10 days after moving to Charlotte and spent the first three weeks without a bed.
His goal for the season?
"I'm hoping to be a dynamic combo guard that creates a lot of open shots for other people/puts a ton of pressure on the defense. The Hornets struggled to create offense and open 3's last year so I think I can really help in that area."
Despite the strict training regiment of an NBA player, he admits to binge eating on occasion.
"Two years ago I was on a pretty strict diet during the offseason and my trainer said I could have one cheat meal when we got back from our annual Asia trip. I ended up having two double doubles and animal style fries from In-N-Out. I then went to McDonalds and got six piece Chicken Mcnuggets, large fries, and an Oreo Mcflurry with caramel. I ended the night at Taco Bell getting chicken quesadillas, a beef chalupa, and a Mountain Dew. There were no left overs."
You can read about the commercial for the Asian company he turned down plus his thoughts on Yao Ming, life as a Christian in the NBA on Reddit's Ask Me Anything.