By Lia Chang
AsAmNews Arts and Entertainment Reporter
The 31st Film Independent Spirit Award nominations have been announced and Jennifer Phang's critically lauded sci-fi film Advantageous, winner of a Sundance Film Festival Jury Award for Collaborative Vision, has been been nominated for the John Cassavetes Award, given to the best feature made for under $500,000.
The cast features Jacqueline Kim, Samantha Kim, Ken Jeong, James Urbaniak, Jennifer Ehle, Freya Adams, Jennifer Ikeda, Olivia Horton, Sameerah Luqmann-Harris, Rex Lee, Troi Zee, Theresa Navarro, Mercedes Griffeth, Jeanne Sakata and Matthew Kim.
Independent Spirit award nominated actress Jacqueline Kim co-wrote the script of Advantageous with Phang, and stars as Gwen, the company spokesperson for a radical technology allowing people to overcome their natural disadvantages and begin life anew in a dystopian society that favors appearances over experience. When Gwen finds herself out of a job due to the inevitable march of time and the future of her only child Jules (Samantha Kim) in crisis, Gwen ponders undergoing the procedure herself.  Her compromised partnership with her former boss Fisher (James Urbaniak) threatens any means of her returning to work; while a past indiscretion with her sister's husband (an almost unrecognizable, dramatic turn for comic actor Ken Jeong) foregrounds her estrangement from her own family. In this world, Advantageous riffs on the destructive contrast between soaring opulence vs. economic hardship, and the compromises that people like Gwen are willing to go through for that better situation.
Phang has developed a dual affinity for science fiction and wry commentary as her storytelling stock-in-trade. Her latest effort, Advantageous (an expansive revisit of her 2003 Festival Golden Reel Award-winning short subject) is the story of a career woman, played by veteran actress Jacqueline Kim, who goes to great lengths to insure a future for her only child. Originally commissioned in 2012 as part of the groundbreaking Independent Television Service series, Future States, Advantageous sparingly lays on the sci-fi while amping up the interpersonal tension and drama. The result is more French New Wave (Chris Marker's classic La Jetee comes to mind) than anything else, and demonstrates Phang's increasing mastery of the sci-fi storytelling form — even more impressively than in her well-lauded Half-Life (2008).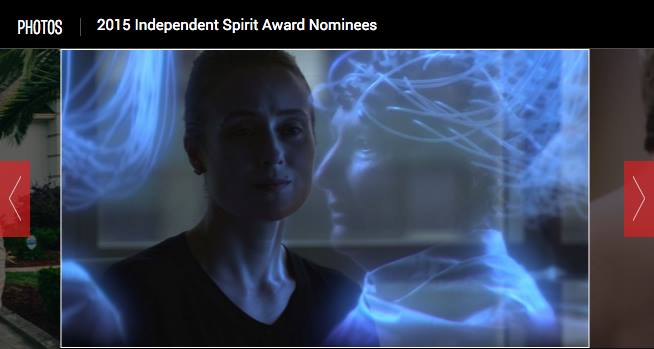 Advantageous is produced by Robert Chang, Theresa Navarro, Moon Molson, Ken Jeong and Jacqueline Kim. With cinematography by Richard Wong, editing by Sean Gillane and Gena Bleir, production design by Dara Wishingrad and Aiyana Trotter, VFX animation by Catherine Tate, Ricardo Marmolej and Jean Elston, original score composed by Timo Chen.
Film Independent Members (and members of IFP) vote to determine the winners of the annual Film Independent Spirit Awards. Become a Film Independent Member, by visiting filmindependent.org/membership. All Members must be paid and current as of December 4, 2015 to be eligible to vote. Click here to cast your vote.
The 2016 Film Independent Spirit Awards will be broadcast exclusively on IFC on February 27, 2016, LIVE at 2:00 pm PT / 5:00 pm ET. Congrats to all of nominees.
Below is the full list of nominations.
Best Feature
Award given to the Producer; Executive Producers are not awarded.
Anomalisa
Beasts of No Nation
Carol
Spotlight
Tangerine
Best Director
Cary Joji Fukunaga, Beasts of No Nation
Charlie Kaufman & Duke Johnson, Anomalisa
David Robert Mitchell, It Follows
Sean Baker, Tangerine
Todd Haynes, Carol
Tom McCarthy, Spotlight
Best Screenplay
Charlie Kaufman, Anomalisa
Donald Margulies, The End of the Tour
Phyllis Nagy, Carol
S. Craig Zahler, Bone Tomahawk
Tom McCarthy & Josh Singer, Spotlight
Best First Screenplay
Emma Donoghue, Room
Jesse Andrews, Me and Earl and the Dying Girl
John Magary, Russell Harbaugh, Myna Joseph, The Mend
Jonas Carpignano, Mediterranea
Marielle Heller, The Diary of a Teenage Girl
Best First Feature
Award given to the director and producer.
James White
Manos Sucias
Mediterranea
Songs My Brothers Taught Me
The Diary of a Teenage Girl
Best Female Lead
Bel Powley, The Diary of a Teenage Girl
Brie Larson, Room
Cate Blanchett, Carol
Kitana Kiki Rodriguez, Tangerine
Rooney Mara, Carol
Best Male Lead
Abraham Attah, Beasts of No Nation
Ben Mendelsohn, Mississippi Grind
Christopher Abbott, James White
Jason Segal, The End of the Tour
Koudous Seihon, Mediterranea
Best Supporting Female
Cynthia Nixon, James White
Jennifer Jason Leigh, Anomalisa
Marin Ireland, Glass Chin
Mya Taylor, Tangerine
Robin Bartlett, H.
Best Supporting Male
Idris Elba, Beasts of No Nation
Kevin Corrigan, Results
Michael Shannon, 99 Homes
Paul Dano, Love & Mercy
Richard Jenkins, Bone Tomahawk
Best Documentary
(T)error
Best of Enemies
Heat of a Dog
Meru
The Look of Silence
The Russian Woodpecker
Best Cinematography
Cary Joji Fukunaga, Beasts of No Nation
Ed Lachman, Carol
Joshua James Richards, Songs My Brothers Taught Me
Michael Gioulakis, It Follows
Reed Morano, Meadowland
Best Editing
Julo C. Perez IV, It Follows
Kristan Sprague, Manos Sucias
Nathan Nugent, Room
Ronald Bronstein and Benny Safdie, Heaven Knows What
Tom McArdle, Spotlight
Best International Film
A Pigeon Sat on a Branch Reflecting on Existence
Embrace of the Serpent
Girlhood
Mustang
Son of Saul
John Cassavetes Award
Given to the best feature made for under $500,000. Award given to the writer, director and producer; Executive Producers are not awarded.
Advantageous
Christmas, Again
Heaven Knows What
Krisha
Out of My Hand
Robert Altman Award
Spotlight
Kiehl's Someone to Watch Award
The 22nd annual Someone to Watch Award, sponsored by Kiehl's Since 1851, recognizes a talented filmmaker of singular vision who has not yet received appropriate recognition. The award includes a $25,000 unrestricted grant funded by Kiehl's Since 1851.
Chloe Zhao, Songs My Brothers Taught Me
Felix Thompson, King Jack
Robert Machoian and Rodrigo Ojeda-Beck, God Bless the Child
Piaget Producers Award
The 19th annual Producers Award, sponsored by Piaget, honors emerging producers who, despite highly limited resources, demonstrate the creativity, tenacity and vision required to produce quality, independent films. The award includes a $25,000 unrestricted grant funded by Piaget.
Darren Dean
Mel Eslyn
Rebecca Green & Laura D. Smith
Truer Than Fiction
The 21st annual Truer Than Fiction Award, sponsored by LensCrafters is presented to an emerging director of non-fiction features who has not yet received significant recognition. The award includes a $25,000 unrestricted grant funded by LensCrafters.
Alex Sichel and Elizabeth Giamatti, A Woman Like Me
Elizabeth Chai Vasarhelyi, Incorruptible
Hemal Trivedi and Mohammed Ali Naqvi, Among the Believers
Lia Chang is an award-winning filmmaker, a Best Actress nominee, a photographer, and an award-winning multi-platform journalist. Lia has appeared in the films Wolf, New Jack City, A Kiss Before Dying, King of New York, Big Trouble in Little China, The Last Dragon, Taxman and Hide and Seek. She is profiled in Examiner.com, Broadwayworld.com, Jade Magazine and Playbill.com.