By Louis Chan
AsAmNews National Correspondent
A coalition of Asian Americans rallied in Washington, D.C. to oppose the rampant anti-Muslim rhetoric muddying the political debate.
Members of the National Coalition of Asian Pacific Americans gathered in front of the Japanese American Memorial to Patriotism During World War II Wednesday to express their anger.
"We are speaking up now condemning dangerous anti-Muslim rhetoric by elected officials
and candidates," said David Lin, executive director of the Japanese American Citizens League. "It is our conviction that what happened to those 120,000 Japanese Americans during the World War II should never be repeated."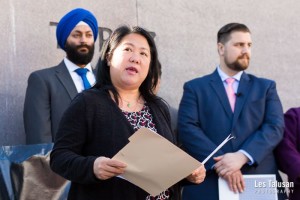 Mee Moua recalled escaping Laos in the 70's as a refugee to America and being called "chink" and "gook" walking to school. What she sees happening today to Arab and Muslim communities is giving her "traumatic flashbacks."
"As a child, I resigned myself to living these experiences in silence and fear because there was no one around to give me the strength to stand up for myself," said Moua, executive director of Asian Americans Advancing Justice. "I stand here to say to my brothers and sisters in the Arab and Muslim community that we are here, we stand here so you need not feel alone, isolated and defenseless."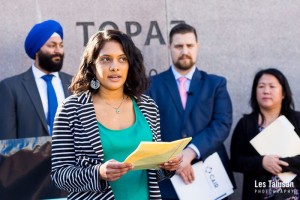 Lakshmi Sridaran of South Asian Americans Leading Together urged protesters to make a connection between anti-Muslim hate and public policies and to combat that same hate within our own families and communities. Those sentiments were echoed by Jasjit Singh, executive director of the Sikh American Legal Defense and Education Fund.
"These are the times when it is critical for us to speak actively against the hate that is all around
us," he said. "We need to aggressively root out evil and shame those who fuel the fire of division."
"This is a moment for us to stand here and commit to bringing Muslim voices to the forefront," said Sasha W., organizing director of the National Queer Asian Pacific Islander Alliance.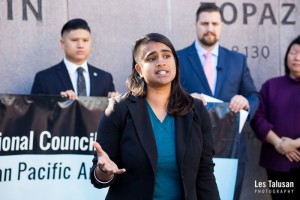 (An earlier version of this story misidentified Sasha W in the caption. We apologize for the error)