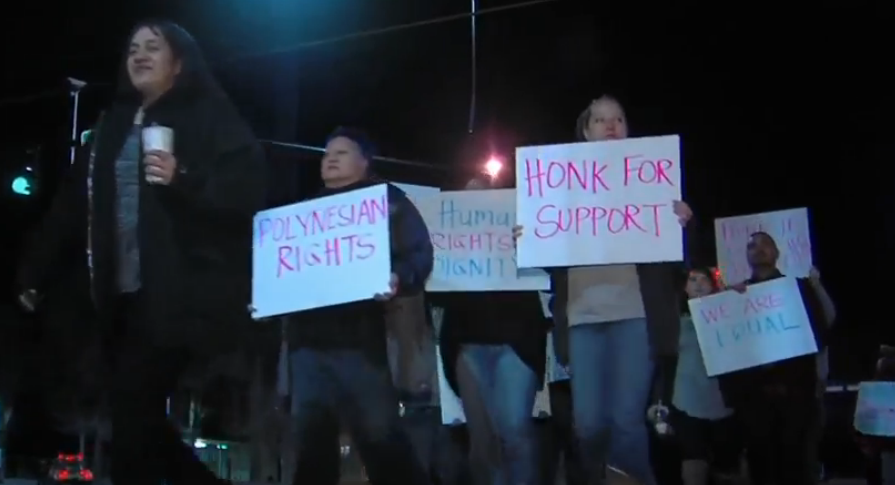 Dozens of people gathered to protest outside a Salt Lake City bar after two Polynesians were denied service, reports the Salt Lake Tribune.
Stephen Wily and Frank Maea were asked to leave Tuesday night. The owner of Willie's bar, Geremy Cloyd, has apologized, saying his bartenders were told they could ask Polynesian customers to leave because some have caused trouble in the past.
"We're doing everything we can to make it right," he told KUTV.
On Saturday, Wily and Maea stood outside Willie's and joined those who spoke out about what happened.
It's not limited to this one establishment," said Lavinia Taumoepeau-Latu, the immediate past chair of OCA-Utah, an Asian American civil rights group. "It is a daily experience that we encounter at businesses, government and educational institutions, and among the general population, that can lead to tragic outcomes when they shape police perceptions of our community members."
The idea for a rally started as a joke on Facebook, with Mike Tuiasoa suggesting those upset stage a Polynesian war dance outside the bar. The war dance didn't happen, but protesters decided to gather outside the bar Saturday night anyway.
"We deal with discrimination all the time," wrote Tuiasoa on his Facebook post. "Sometimes it's subtle "diet racism" and sometimes it's blatant or even violent. It's not in our minds, it really does happen. But I'm worried that these kinds of incidents get pushed aside or ignored because we've become so used to it happening. Or because we haven't been taught that speaking out is ok. At some point we have to make a big deal out of something and make an example to let everyone know, this is not alright."
(AsAmNews is an all-volunteer effort of dedicated staff and interns. You can show your support by liking our Facebook page at www.facebook.com/asamnews, following us on Twitter and sharing our stories.)