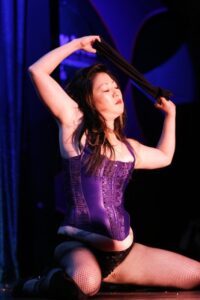 By Louis Chan
AsAmNews National Correspondent
Comedian Margaret Cho is reacting with both defiance and remorse following a weekend incident in which fans walked out of her show at the Stress Factory in New Brunswick, NJ.
Cho apparently upset many of her fans with a stand up routine which included gay jokes, sorrow over Gary Shandling's death, discussions about rape and Whites having it so easy.
In her statement released by the Stress Factory on Facebook, Cho said "
"I love the Stress Factory and I love comedy. I'm sorry that I wasn't at my best, but maybe in a way, I was. I bring the real me and my truth to my work. It's not perfect, it's not manufactured, it's real. Everyone has a bad day at work. I was also upset because one of my heroes (Garry Shandling) just died. That doesn't excuse my behavior, but it just shows that I am only human." – Margaret Cho

The Stress Factory also released its own statement, apologizing to its customers, promising to make it right, while also offering support for Cho.
"We booked Margaret for 5 shows and 4 of them went brilliantly. Unfortunately the fifth show, the final set of the weekend, did not. This show took a left turn and ended up being a mess. We are truly sorry for that. We will make this up to the people who attended the show in whatever way we can. We love our customers, we love our stage and yes, we still love Margaret Cho. Read on.

"We do a foolish thing in our line of work. We stand in front of people and try to make them laugh. The things in our heads are sometimes silly, sometimes dark but always we are trying to make them into something funny. It's not always easy and we aren't always successful. As a comic I understand it and applaud Margaret for trying, for walking the razors edge in bare feet and damning the cuts. As a businessman, I understand my customers. They want to laugh. They care about the product as a finished whole – not an experiment. They came on a Saturday night and laid down money to be made to laugh. Last Saturday at the late show that did not happen.

"I also want you to consider this when judging Margaret. She tried something extraordinary. She bared a truth too difficult for too many people to even talk about privately. I suspect that when the piece is finished, it will be funny, poignant and brilliantly Margaret Cho. At that point you can look back and say you were there when it started, you saw it at the genesis and that is something special too. In the meantime, I will make it up to you."

Sincerely,

Vinnie Brand

TMZ posted video of the moments when fans Saturday night turned on the comedian.



Cho added additional commentary on her Twitter feed where she appeared more defiant than in the statement released by the Stress Factory.

It was actually pretty amazing. The best heckle was HOW DARE YOU TALK ABOUT RAPE ON EASTER! https://t.co/X6uyclfQQc

— Margaret Cho (@margaretcho) March 29, 2016
I'm compiling a trolling compendium for my shows in Florida next week! Oh – it's going to be EPIC.

— Margaret Cho (@margaretcho) March 29, 2016
No. And I'm trying to bring hope and light to survivors. Comedy helps.I'm determined to keep going. We deserve joy. https://t.co/GIAu3XvucG

— Margaret Cho (@margaretcho) March 29, 2016
(AsAmNews is an all-volunteer effort of dedicated staff and interns. You can show your support by liking our Facebook page at  www.facebook.com/asamnews, following us on Twitter and sharing our stories.)