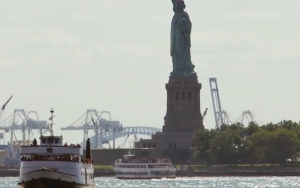 By Minnie Roh
Asian American Life
When people speak about human trafficking, it is almost always equated with the sex industry. But the problem is far more prevalent ranging from trafficking of domestic workers like maids or nannies to garment, agricultural and construction workers.
According to a study conducted by the Freedom Network, a national coalition of anti-trafficking organizations, 55% of trafficked people are from Asian countries – particularly the Philippines, Thailand and Malaysia. And because of the cultural and language barriers, much of the trafficking is perpetrated by other Asians.
"Human trafficking is an exploitation of labor through force, fraud or coercion," says Song Kim, a lawyer with the Asian American Legal Defense and Education Fund (AALDEF). "However, many times those who are being trafficked have no idea they are in that situation, which only leads to further abuse by their abusers."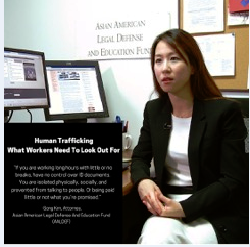 "They said if you want to go around the world, you can join us," said one worker.
He and two other Thai students were recruited on their respective college campuses by a Korean religious organization that promised them visas, English lessons, room and board in exchange for volunteer work helping the needy in New York City. Instead, the reality bore no resemblance to those promises.
"Sometimes if we don't do what they told me, they tell not to give food," said another young man.
To hear more from other exploited victims as well as the red flags to look out for to protect yourself or someone you know from exploitation, tune into this month's Asian American Life.
From the Newark Museum in New Jersey, Ernabel Demillo hosts the April 2016 episode of Asian American Life from the art exhibit, Wondrous Worlds: Art And Islam Through Time and Place. Open now through May 15, the exhibit showcases a rare collection of Islamic art from around the world.
This month Asian American Life also features:

Mandarin Chinese for All Ages
Right now, China accounts for roughly one-fifth of the world's population. In the next 15 years, its population will explode to 1.5 billion people. Learning Mandarin Chinese is one way to keep pace with the world's second- largest economy – from American children whose parents want them to be prepared for an increasingly global world to business professionals who want to live and work in China. Reporter Paul Lin explains why Mandarin Chinese is becoming the "official" language to learn, and interviews Sarah Liu, Founder of Mandarin Seeds – a Mandarin language and customs pre-school, and Helen Liu, Founder of Wall Street Chinese, a school for business people. Currently more than 200,000 Americans study Mandarin, with more than 200 schools nationwide offering immersion courses.

Incarcerated Asian Americans
Contrary to popular belief, Asian Americans are not a stereotypical model minority. In fact, their incarceration rates are on the rise. And the transition back into society can be an uphill battle. Reporter TInabeth Piña has an exclusive report on Asian American ex-cons – one who violated parole after the report was filmed, and one who started a thriving business and who visits prisons to inspire the incarcerated.
(AsAmNews is an all-volunteer effort of dedicated staff and interns. You can show your support by liking our Facebook page at  www.facebook.com/asamnews, following us on Twitter and sharing our stories.)