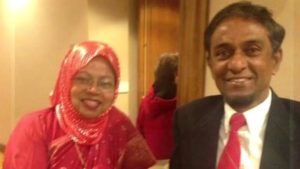 (UPDATED TO ADD  ARREST OF YOUNGER BROTHER)
Authorities have arrested the two sons of a Muslim couple murdered in their San Jose home, reports ABC7/KGO.
Hasib Rabbi is in the Santa Clara County Jail for the murder of his parents Golam and Shamini Rabbi.   His 17-year old younger brother is in the juvenile detention center and is not being named at this time because of his age.  The Santa Clara County Sheriff Department had previously said Hasib was not a suspect, but thought he might have information about the killing Sunday.



ABC7 reported that bizarre messages had been scrawled on the wall of the home.  The messages read "Sorry my first killing was clumsy" and "I can't be like you telling a lie. I can't love someone without telling them."
Golam was an engineer. His wife an accountant. The Rabbis were from Bangladesh and attended the Evergreen Islamic Center.
Friends described them as humble, polite and peaceful.
"So that's why it's so difficult to reconcile to the tragic, violent end to such simple, gentle souls," Evergreen Islamic Center member Hasan Rahim.
"We are surprised that they are no longer with us and especially going away in such a manner is something we just can't come to grips with," Evergreen Islamic Center member Faisal Yazadi said.

(AsAmNews is an all-volunteer effort of dedicated staff and interns. You can show your support by liking our Facebook page at  www.facebook.com/asamnews, following us on Twitter and sharing our stories.)