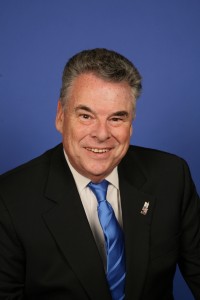 By Louis Chan
AsAmNews National Correspondent

Rep Peter King (R-NY) is attempting to justify his use of a racial slur during a national cable news interview with MSNBC.
King appearing on the Morning Joe used the word when criticizing presumptive Republican presidential nominee Donald Trump's stance on homeland security.
"I don't know if he's thought them through, or it's just like the guy at the end of the bar that says, 'Oh screw them, bomb them, kill them, pull out, bring them home. You know, why pay for the Japs, why pay for the Koreans?'"

King then repeated the word when explaining his use of the term during an interview with The Hill.
"I stand by the merits of what I said. I was quoting the guy at the end of the bar who needlessly offends, who makes snaps decisions and doesn't care, who suddenly says, 'The hell with them, the Japs and Koreans,' " King told The Hill.
"I was using it to make a point, and I would make it again," King continued. "If someone wants to say, 'The mick at the end of the bar,' I wouldn't be offended by it."
The Council of Islamic American Relations, which first flagged King's remarks on You Tube, released a statement calling for an apology.
"It is unconscionable for a national elected official to use such a derogatory term to describe the Japanese people, or by extension, Japanese Americans," said CAIR National Executive Director Nihad Awad. "We ask Representative King to apologize and to refrain from further use of derogatory language targeting any national, ethnic or minority group."
The Congressional Asian Pacific American Caucus joined in the condemnation.
.@RepPeteKing: You know your words have an impact. Using J word is disgusting & harkens back to a shameful time https://t.co/1UKvVrEBsT

— CAPAC (@CAPAC) May 13, 2016
The term is highly offensive to both Japanese Americans and Asian Americans. It's a term used to demonize Japanese Americans and gained wide use during World War II when more than 110,000 Japanese Americans were herded into incarceration camps.
King has clashed with the South Asian community in the past, calling for increased surveillance of Muslims in the United States, calling them a treat to national security.
(AsAmNews is an all-volunteer effort of dedicated staff and interns. You can show your support by liking our Facebook page at  www.facebook.com/asamnews, following us on Twitter and sharing our stories).