By Ed Diokno
The first-ever art exhibition exclusively featuring Sikh Americans will premiere in New York City on Friday, September 16.
The Sikh Project, features the work of acclaimed British photographers, Amit and Naroop, in coordination with the Sikh Coalition. It highlights nearly 40 portraits of Sikh American men and women that explore the style and significance of the Sikh articles of faith. The exhibition, which will be free to the general public from September 16-25, will also highlight generations of Sikh American history that embodies perseverance and progress as Americans commemorate the 15-year anniversary of 9/11.
The Sikh Coalition, which was formed immediately after 9/11, will also be celebrating its 15-year anniversary. "As we commemorate this important milestone for our organization, we felt that the moment was right to examine the beauty of the Sikh faith, the strength of our collective spirit and to do so in a way that further educates Americans," said Executive Director Sapreet Kaur.
In addition to the thousands who will visit the exhibition in person, media coverage of the Sikh Project is expected to reach millions more as the Sikh Coalition launches a communications plan to publicize the exhibition.
"We are really proud to be working with the Sikh Coalition to bring this project to the United States this September," said Amit and Naroop. The photographers, who are generously volunteering their time to this project, launched the original British version of the photography exhibition titled The Singh Project in 2014.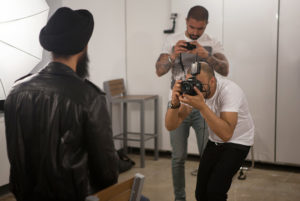 In the aftermath of 9/11, Sikhs experienced a spike in persecution and hate crimes because they were often mistaken for Muslims. Sikh-owned businesses were vandalized, Sikhs were beaten or verbally abused, Sikh temples were targets for vandals, some were burned. Sikhs were detained at airports or kicked off of flights. Both male and female adherents of Sikhism often refrain from cutting their hair and wear turbans to demonstrate devotion to their faith.
"The consequences of 9/11 were disastrous," Amit and Naroop wrote. "One subject we photographed for the exhibition told [us] before 9/11 people would look at him and say, 'Hey, there is a genie.' After 9/11 they would say, 'Hey, there is a terrorist.' "
Many of the series' subjects have experienced discrimination, but all have stayed true to their beliefs in the face of bigotry—a commitment the photographers hope will inspire gallerygoers.
"People viewing the images or attending the exhibition should feel like they have gained some knowledge about Sikhs, but also some more knowledge about themselves," the pair wrote. "They have just seen a bunch of people who will stay true to their beliefs regardless of persecution and prejudice. The question is, would you be willing to do the same? Would you stand up for what you believe in?"
.