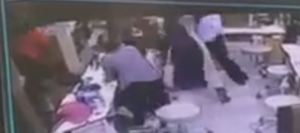 The owner of a nail salon in Savannah, Georgia is coming forward with surveillance video showing two customers attacking his employees.
David Huynh of Posh Nails told WTOC it started as an argument over the service, but quickly turned into a robbery with the suspects taking money out of the cash drawer.
You can watch the surveillance video in the report below.
WTOC-TV: Savannah, Beaufort, SC, News, Weather & Sports
"Initially shoved her over. And they both came, the suspects repeatedly punched her several times in the face. As one continued to fight and punch her, the other one went to go pull out drawers to look for money," said Huynh.
Huynh says his employees are now afraid to come to work and he's now closing his shop earlier as a safety precaution. He said he never imagined something like this would happen at his shop.
The employees escaped serious injury.

AsAmNews is an all-volunteer effort of dedicated staff and interns. You can show your support by liking our Facebook page at  www.facebook.com/asamnews, following us on Twitter, sharing our stories, interning or joining our staff.