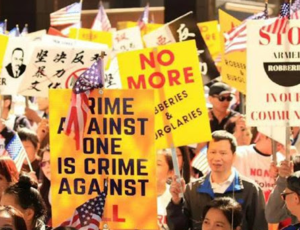 By Ed Diokno
A spate of burglaries against Asian American businesses and the need to attract more high-tech firms has prompted Philadelphia's mayor to revive the Commission on Asian American Affairs.
"We're about 6 percent of the population here," said John Chin, executive director of Philadelphia Chinatown Development Corp. and chairman of the new committee. "So I guess, if we're out of sight, sometimes we're out of mind. And I want to change that dynamic."
Mayor Jim Kenney said the panel's goal is to advise him on issues and policies pertinent to that community. That includes exploring ways to expand jobs and increase the safety of Asians in the city.
The new committee has 25 members and will be housed within the Mayor's Office of Public Engagement. Nina Ahmad, head of that office, in a statement said the commission would "play an important role as a conduit" between the community and government while making policy and program recommendations to Kenney.

The Commission was originally formed in 2009 under a former mayor, but in recent years had grown inactive.
"Currently two industries that our city is known for — information technology and biotechnology — are seeing an increased need for a diverse workforce," Kenney said. "We can help them meet these needs while also setting our Asian American communities up for success."
Chin called on professionals to join together to help their community. "We are in a new time with new challenges, and it behooves all of us to raise our expectations and do a little bit more," he said. "And we're going to find out what that little bit more is."

He brought attention to the recent series of burglaries and home invasions against Asian Americans.

The arrest last summer of two men suspected of robbing no fewer than 13 Asian businesses didn't  end of fear of crime targeting the community, said Chin.

"There's even rap music about how easy Asian American homes are as targets of burglaries."

In October, about 700 people held a rally in Center City to decry violence against members of the Chinese American community.
"We cannot let people just use culture and language as an excuse for things not working," Chin said. "We actually have to come up with really creative solutions."

Chin said that will be an item on the Commission's agenda. Kenney tied it to the Philadelphia's status as a sanctuary city, where law enforcement is not bound to report undocumented immigrants to federal agents."Making Philadelphia an arm of the federal immigration force will make it even worse because people will not come forward," Kenney said.

Chin said the commission intends to hold a citywide meeting to gather input.


AsAmNews has Asian America in its heart.  We're an all-volunteer effort of dedicated staff and interns. You can show your support by liking our Facebook page at  www.facebook.com/asamnews, following us on Twitter, sharing our stories, interning or joining our staff.