By Timothy Farrell
University Athletic Association
(Editor's note: This is part three of a four part series. Part 1 looked at how the four Asian American standouts ended up at the University of Chicago together. Part 2 examined how their arrival changed the culture of the team.)
The recruiting class of Nick Chua, Peter Leung, David Liu, and Luke Tsai paid immediate dividends for the University of Chicago men's tennis program.
The Maroons swept the ITA Division III Central Region titles with Chua winning singles and the combination of Liu and senior Deepak Sabada earning the doubles championship. Chua went on to capture the 2014 USTA/ITA National Small College Division III Men's Singles Championship title.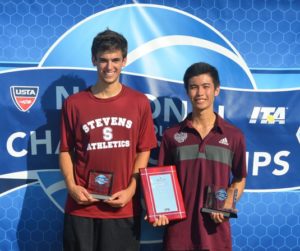 "I was playing so well when I got to UC in the fall," Chua recalled. "I really enjoyed preseason and meeting the guys. Then we went to a Division I tournament (at Purdue University) and I got smoked. I was way worse than I thought I was. I lost the fastest and was trying to cheer and not look pathetic. It turned out we (four freshmen) all lost."
Head coach Jay Tee has a different recollection of that weekend. "All four guys came back the next day and won." In fact, the four teamed up for a 7-1 combined record the following day with Chua dropping just five games in four sets. Tsai did not lose again that weekend, winning twice the second day and once more on the tournament's final day.
"Chicago Can't Win Big/Close Matches"
The reputation of previous Chicago men's tennis teams was that in a big match and/or a close match, the Maroons would lose. Onlookers may have seen the same pattern in the spring portion of the 2014-15 season, but the team saw things differently.
The Maroons dropped a 5-4 decision to Case Western Reserve University in early February, but started a nine-match winning streak the following day with a 7-2 win over 12th-ranked Kenyon College.
"As soon as we announced our recruiting class the expectations changed overnight and when we lost our first 5-4 match a lot of people on the outside were quick to say that it was the same old story from Chicago," Tee relayed. "The wins might not have come as easily as some people expected but things were different. After the Case match there were a lot of tears from the guys, which showed they were invested and cared deeply about the team. The team responded by coming back the next day and beating Kenyon for the first time in program history. That right there told me all I needed to know about the team we had."
"That loss (to CWRU) was heartbreaking, but also a big turning point in our season," Tsai recollected. "It really motivated us to get better and to keep fighting for success."
"I remember Nick asking me if beating Kenyon was really that important to us," then senior Ankur Bhargava said. "I told him it was. We had the perspective of losing to them 9-0 and 8-1 the previous two seasons."
The winning streak was snapped when the team ended its spring break trip to California with a 5-4 loss to fourth-ranked Pomona-Pitzer Colleges, but the next match two weeks later would be one of the key matches of the season – when the Maroons faced rival Washington University.
Chicago jumped out to a 4-1 lead, taking two points in doubles and getting straight-set victories from Chua (No. 1) and Liu (No. 6) in singles. Each of the four other singles matches went to a third set with the Bears sweeping them for a stunning 5-4 comeback win.
"That loss was really, really hard on all of us," Tee recalled. "It was our third 5-4 loss of the year and it was getting hard to keep things in perspective. Looking back, it's easy to see that we were improving with each match, but in the moment I think we were all searching for answers." Senior Deepak Sabada played with the flu that day and Tsai arrived in town at 10 p.m. the night before after attending his grandmother's funeral in Taiwan.
"It was an emotional day and an emotional loss," Tee added. "I snapped at Deepak in front of everyone for not closing out his match and he came right back at me – that was a turning point for me as a coach. These guys were doing all they could to compete and win, but I was completely results-oriented. I think we were all dealing with the pressure of our own expectations and it was hard to fail. I just kept telling the guys 'Hey, the door is open, we just need to walk through it.'"
"The Open Door"
The Maroons responded quickly the same day as the loss to the Bears with a 7-2 win over 19th-ranked University of Texas-Tyler and headed into the UAA Men's Tennis Championship with victories over 25th-ranked University of Wisconsin-Whitewater and came out on the winning end of a 5-4 decision for the first time all season against 16th-ranked Gustavus Adolphus College.
Chicago was seeded fifth for the UAA championship and met CWRU in the quarterfinals, trying to avenge the loss in February. The Maroons jumped out to a 2-1 lead after doubles with Tee's relatively new No. 3 doubles combination of Liu and Chua earning an 8-6 win. Leung (No. 4) and Liu (No. 6) won their singles matches in straight sets, but the Spartans matched those victories with straight-set wins at No. 1 and No. 2.
The Maroons found themselves in familiar territory with a 4-3 lead and needing one more win to close out the match or suffer another heartbreaking 5-4 loss. In further evidence of the resiliency Tee had witnessed from his team, Sabada battled back from a one-set deficit to clinch the match at No. 3 singles. Shortly afterward, Tsai won his third set at No. 5 singles to advance the Maroons to the UAA semifinals for the first time since 2011.
Although Chicago fell 5-4 in the semifinals to second-ranked Emory University, the Maroons were confident they had proven they could play with the best teams in the country and sealed an at-large bid to the NCAA Division III Tennis Championships with an impressive 8-1 win over 10th-ranked Carnegie Mellon University in the third-place match. Each of the four freshmen won in singles after the Maroons swept the doubles and again Sabada posted the clinching win.
"Even though we suffered those 5-4 losses to Pomona, Wash U, and Emory, it showed us that we were capable of contending with any team," Tsai said.
The Maroons were selected to play in the Wisconsin-Whitweater Regional of the NCAA tournament. After receiving a bye in the first round, Chicago defeated Coe College for the second time that season to set up a rematch with Gustavus-Adolphus.
The doubles result was identical to their previous meeting with the Maroons falling behind 2-1, but Chua, Leung, and Tsai all joined sophomore Sven Kranz in earning straight-set wins to send Chicago to its first NCAA quarterfinal in program history.
The Amherst Match
Chicago came in as heavy underdogs to its first Elite 8 against defending national champion Amherst College. "It was the first time we ever got to the Elite 8. We were just happy to be there," Tee stated. "We had a great practice at an indoor club and when we were done, Amherst walked in. I remember looking at them and their demeanor and thought they may take us lightly."
Although the entire team was excited to be this deep in the tournament, the site (Lindner Family Tennis Center in Mason, Ohio) made it even more special for Tsai, who lives in Mason. "I had been watching the pros play there every year and I was able to have friends come watch me play," he said. "I remember being a bit nervous, but I felt like my opponent was 10 times more nervous than me because I was playing well and I had a bit of a crowd supporting me."
"I would tell our classmates all season that there is no reason any of us should lose to anyone on any team," Chua said. "We didn't care that they were defending national champions. We were pumped up."
Chua and Liu moved to 10-0 on the season at No. 3 doubles with an 8-1 win, the Maroons' lone point in doubles. "Nick and Dave played really well and got a point," Tee commented. "Our mentality was just not to get swept in doubles."
"Nick and I played one of our best doubles matches of the year in that Amherst match," Liu added. "Even though we were down 2-1 after doubles, we felt good because we are better in singles than doubles."
Amherst earned its third point with a three-set win at No. 2 singles. With Tsai winning 6-0, 6-0 at No. 5 singles and Leung taking No. 4 singles, 6-2, 6-0, Chicago evened the match 3-3 as Chua faced Andrew Yaraghi in a third set at No. 1 singles on center court.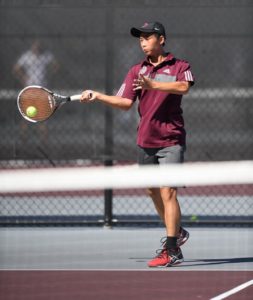 "I said to myself, 'Nick will win this. He has been dominant in third sets all season," Tee remembered. "I was thinking what are the odds we don't win either of these other matches that we are leading in?" Chua did end up winning the third set, 6-4, to bring the Maroons within one point of victory and improve to 10-1 in three-set matches that season. "I was glad to win that match because Andrew Yaraghi was a really good player," Chua said.
Rain had already delayed the start of the match and darkness on the outdoor courts later in the evening further lengthened the match. Liu and Andrew Arnaboldi were even at 4-4 in the first set when they were moved to center court. "At the time we got kicked off the side court and moved onto center court, I wasn't playing my best and the break was really good for me," Liu stated.
Liu won the next two games to take the first set 6-4 and seemed destined to clinch the match when he took a 4-2 lead in the second set. However, with the number of dramatic finishes throughout the season, it only seemed fitting that this match was far from over.
"Nick was watching me and I saw him leave to go watch Deepak," Liu recollected. (Sabada won a first set tiebreaker, but fell in a second set tiebreaker and was now in a third set). "Then my opponent started coming back. I was really feeling fatigued as I had not eaten in about 12 hours. My hand started cramping first and I couldn't let go of my racquet. The more he came back, the tighter I got."
Liu did have one match point in that second set, but eventually dropped the set 7-5. "I went for a stupid shot (on match point), a forehand down the line that I missed by a foot." The time of night and length of the match had Liu thinking he had lost. "I thought it was the third set and that I had lost the match," he said. "I went to shake hands with my oppinent and he just walked to the bench. It was just so late. It felt like a third set."
The defending champions were not going away easily and took the third set at No. 3 singles to even the match 4-4. The match came down to the Liu-Arnaboldi match under the lights on center court and it was now past midnight. "The atmosphere was incredible with the whole team yelling and it being almost 1 a.m.," Liu recalled.
Liu's cramping had moved into his legs and Tee remembers it well. "It seemed like an alien was trying to come out of his calf," he laughed. "By the start of the third set, I knew my body was not where it should be," Liu said. "I knew I would have to take a medical at some point, but my strategy was to wait as long as possible. Coach forced me to take it when I was down 2-3 and that won me the match."
"It didn't look good in the third set with David cramping," Tee admitted. "I was thinking 'here we are again in a 5-4 match." Tee knew Liu needed a calming influence and conceded he was not the right person to talk to him. "I had (then assistant coach) Richy (Gray) take David to the bathroom because he was always calm. When they came back, David was thinking a lot more clearly."
Still cramping, Liu knew he had only one option left. "I had to go for winners because I knew I couldn't win long points," he said. The winners started coming fast and furious. "Peter said I hit eight winners in a row at one point," Liu stated, not remembering that himself. After being down 3-1, Liu won the final five games for a 6-3 win to give the Maroons a spot in the Final Four.
"That match was one of the most memorable experiences of my tennis career because it was just so close," Leung stated. "I thought we were going to win when Dave was up a break, 4-2, in the second. Then he started cramping and I was sure we were going to lose. All of a sudden, Dave started hitting winners out of nowhere. I went from being sure he was going to win to being sure he was going to lose to him somehow managing to pull off a miraculous victory."
"Dave got to the net, something we had worked on all season, and hit two of the best volleys of his life," Tee said. "I remember jumping over the railing. I remember the joy in their faces. We knew we were part of something really special just then."
Tsai, who also got to finish his match under the lights on center court, was relishing in the result in his hometown. "I remember watching David fighting through full body cramps to clinch the match for us and the whole team rushing the court," he said. "It was one of the best feelings in the world. In the end, we were able to forget about all of our 5-4 losses during the regular season with an incredible 5-4 win to make the Final Four for the first time ever."