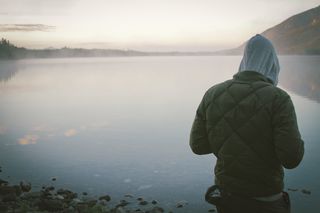 By Sam Louie
Psychology Today
I recently saw an adult client dealing with childhood sexual abuse trauma and it reminded me of how difficult it is to let go of the feelings of helplessness, personal responsibility, and shame. Not only is it hard for childhood victims but also those who suffered from it as adult victims of sexual harassment or abuse.
If anything, I think adult victims struggle mightily as well but in a different manner. As adults, we're to know right from wrong and be able to speak up for ourselves. As adults, we should have the capacity to draw healthy boundaries with those who try and prey on us. As adults, we have been taught to say, "no!". But what if you still can't say no? What then? Does this mean you were complicit to the harassment? Does this mean the harassment or abuse was justified? Surely, I hope not.
In my own personal work on shame, I've avoided this topic for a long time. Much of it, because of the negative connotations associated with adults who complain against sexual harassment. But the other piece is the deeply embedded feeling of inadequacy that finds its way to the surface when sharing this information.
In other words, how inadequate are you to be an adult and not be able to tell someone no to their sexual advances?
I had buried an incident in my adult life primarily because of this reason but after talking to therapists and friends, I wanted this aspect of life made public. This also coincides with Bill Cosby's trial and the some of the stories (and criticism) I've heard sound eerily similar to my own. Why wait so long? Why didn't you do anything then? You're an adult for crying out loud! Why didn't say anything.
In a word, shame. But it also included the fear of judgement, my Asian desire to quickly forgive and move on, and the lack of support and continued barrage of criticism that surfaces whenever someone publicly confronts their perpetrator.
As a man in my late twenties, I was groomed for years by who I thought was my mentor in broadcast journalism before the incident where I was sexually harassed, fondled, seduced, and asked to strip down by a former boss during a job interview.
The sheer fear of his power, prestige, and possibly losing years of his guidance and mentorship made it difficult for me to tell him to stop. I squirmed and tried to tell him I was averse to alcohol ("Asian flu" syndrome) as a means to stop him from giving me drinks, but by the time it was all over, I was severely sick with alcohol poisoning (treated at the ER later) and I had let him violate me. He wanted me to stay at his home for the rest of the evening but I returned to the hotel (conveniently located across the street from his condo at the time) and wondered if I had lost my job promotion since I declined his most graphic advances.
In a phone conversation with my former boss, you can see how he deftly uses the words "we" as a means to absolve taking responsibility for his actions. You can also see how often he refers to "alcohol" as being the catalyst and issue and once again not willing to see his manipulative and predatory ways on my vulnerable and naive self.
There's a reason why he preyed on me. Just like the movie, Spotlight,which followed the Catholic Priests sexual abuse in the New England region, victims are oftentimes groomed and chosen because they have limited insight, lack family support, and display other signs of vulnerability. In other words, predators find their prey and it's no coincidence who they choose to prey upon.
To make matters worse, my agent, the one professional ally who could have protected me did not. Instead, since my talent agent was a friend and former colleague with my then boss, you can see how he put on the appearance of acting in my best interest but really was more concerned with protecting my boss. In a conversation with him , it's comical to hear him state, "I'm here to protect you", and "never tolerating sexual harassment" yet he was able to give this a blind pass and not inform the company about this egregious incident. Unfortunately, professional negligence and formal complaint procedures against my agent never crossed my mind then as I saw him as a neutral party but after going over the phone transcription years later, it shows me how unconscionable his behaviors were as a major talent agent in Los Angeles.
This is an experience no one interviewing for a job should have to endure. In the years since that incident, it continues to come up in work with therapy clients but also in my own therapy, writings, and reflections as I've never "owned" the story. I've always hid it or minimized it for fear of public backlash.
Now, it's time that people take sexual harassment or abuse seriously, especially young adults longing for mentors, guidance, and stewardship through life who oftentimes are not seen as a vulnerable population.

Sam Louie is a psychotherapist in private practice specializing in addictions, Asian American issues and Christian counseling. Prior to therapy, he worked more than a dozen years as an Emmy Award-winning television news reporter where he researched and reported on a number of stories related to addictions, culture and psychotherapy. You can reach him at www.samlouiespeaks.com.

AsAmNews has Asian America in its heart.  We're an all-volunteer effort of dedicated staff and interns. You can show your support by liking our Facebook page at  www.facebook.com/asamnews, following us on Twitter, sharing our stories, interning or joining our staff.