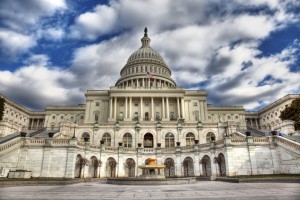 Views from the Edge
In the middle of the night when America was asleep, Republicans passed a tax bill that could add over a trillion dollars to the national debt, according the Congressional Budget Office.
The GOP presented a 500-page bill that was rammed through hours later even though no Senator had time to read the entire bill. Portions of the bill was done in unreadable hand writing.
The three Asian American senators voted against the bill and showed their disappointment in different ways.
Sen. Mazie Hirono (D-Hawaii) in a tweet called the legislation "disgusting, disgusting."
Sen. Tammy Duckworth (D-Illinois) tweeted a picture of her daughter Abigail with a comment:
Maybe Abigail could get a job helping Senate Republicans write their #GOPTaxScam, but thousands of dollars in tax hikes for middle class is no laughing matter. pic.twitter.com/gs3DakTPkC

— Tammy Duckworth (@SenDuckworth) December 2, 2017
U.S. Senator Kamala D. Harris, D-Calif., a member of the Senate Budget Committee, voted against the bill along with every single Democrat and one Republican. She issued the following statement on the passage of the Republican tax plan.
"The tax plan approved (Dec. 2) by my Republican colleagues is shameful. Tonight, corporations and the top 1% of Americans won at the expense of middle-class families. This is wrong and does not reflect the best of who we are as a country.

"At a time when corporate profits are at an all-time high and pay for workers has stagnated, my Republican colleagues have given corporations and the top 1% of Americans a permanent tax cut. This plan does this by adding $1 trillion to the deficit and asking workers and middle class families to pay for it. We should not explode the deficit and pull the rug out from the middle class to give billions to those who already have so much.

"Under this bill, 572,000 tax payers making over $1 million a year will get $34 billion in tax cuts in a single year. If you're a senior relying on Medicare, this tax plan puts you at risk by slashing Medicare by up to $410 billion over a decade, with more than $45 billion of those cuts hitting California. And because Senate Republicans couldn't repeal the Affordable Care Act, they're trying to take away the health care of millions of Americans and increase the premiums for millions of Californians, by repealing the individual mandate.

"Instead of playing politics with people's lives, we should be delivering for the American people who have spoken loud and clear that this isn't what they want. There is a better way to reform our tax code, one that is bipartisan, transparent, and fair for all Americans."
The New York Times, not known for hyperbole and known as The Grey Lady for its underwhelming appearance and reluctance to sensationalize, calls the Senate tax bill passed by the Republicans, "The Biggest Tax Scam In History."
This is a terrible, terrible bill. One of the worst pieces of legislation ever conjured up. Not only is it bad, it is insidious and deceitful. 
The Senate's bill is a ticking time bomb. Thee worst impacts won't occur immediately.
In 2025, those middle-class taxpayers who initially receive a token cut on their taxes will see them disappear as the tax cuts expire but the corporations continue to keep their cuts.
With the ACA's individual mandate gone, the ACA will become too expensive for the majority of its enrollees. Thirteen million people will lose their healthcare but if the entire ACA goes under because of of the loss of the mandate, that number could be mean more 25 million without healthcare.
As the national debt increases, the GOP solution will seek savings to compensate for the losses. They will be able to cut programs in other areas. That puts social security, Medicaid and Medicare in jeopardy, the programs Republicans have long sought to get rid of.
This plan will affect every single American: from our children and grandparents to teachers, first responders, and college students.