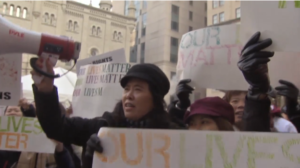 The Philadelphia City Council is scheduled to vote next Thursday on a bill to ban merchants from using bullet proof glass to separate themselves from customers, according to Fox News.

The bill which is part of a larger measure cracking down on public loitering and nuisances is opposed by many Asian American merchants who see this as a safety issue.



"Today we are here for bulletproof glass, which is our major concern. We have no problem at all with the bill. The only thing we have a problem with is bulletproof glass, which everybody deserves," said Adam Xu. "It's our last line of defense for our safety, for our lives," said Adam Xu to ABC 6.

City Councilwoman Cindy Bass says her measure is intended to restore dignity to customers. She pointed out that she's never seen bullet proof glass in bars.

"No more normalization of receiving food or drink through a prison-like solitary confinement window. What message does it send our children? What are we conditioning them for?" Bass said.

The merchants say the consequences of Bass' proposal could be deadly.

"If the glass comes down, the crime rate will rise and there will be lots of dead bodies," Rich Kim, a deli owner said to Fox News. "The most important thing is safety and the public's safety."

AsAmNews has Asian America in its heart.  We're an all-volunteer effort of dedicated staff and interns. You can show your support by liking our Facebook page at  www.facebook.com/asamnews, following us on Twitter, sharing our stories, interning or joining our staff.