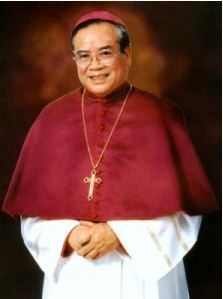 The nation's first Vietnamese American Catholic bishop has died after a long illness at the age of 77, reports the
OC Register.

Luong served as auxiliary bishop of the diocese of Orange in Southern California from 2003 TO 2015.

"(He) was involved in anything that had to do with helping Vietnamese people getting acclimated to the new environment," said Father John Nhan Tran who remembers Luong as his spiritual director in the seminary.

According to the Orange County Catholic, the Bishop served as the Director of the National Center for the Vietnamese Apostolate. He traveled throughout the country assisting Vietnamese immigrant groups.

He was born in Minh Cuong near Hanoi in 1940. He joined the seminary and was sent to the United States to continue his training in 1956, making him well positioned to help Vietnamese refugees to adjust to life in American after the Vietnam War. He was ordained in 1956.

After the fall of Saigon, he moved to New Orleans to assist in refugee resettlement.

"Bishop Luong was their hero," said said Tita Smith, executive director of Catholic Charities and mayor of Orange to the OC Register. "He was a sweet and generous person and we'll miss him terribly."

AsAmNews has Asian America in its heart.  We're an all-volunteer effort of dedicated staff and interns. You can show your support by liking our Facebook page at  www.facebook.com/asamnews, following us on Twitter, sharing our stories, interning or joining our staff.