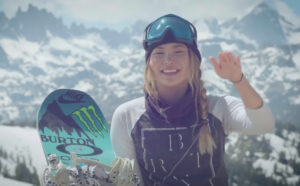 Snowboarding superstar Chloe Kim will represent Team USA for the first time at the upcoming Winter Olympics in February, reports TeamUSA.org

Kim has been a big name in snowboarding since 2014 when she earned a silver medal at the Winter X Games, but was too young to compete in the Olympics.

Kim qualified for PyeongChang 2018 Friday when she secured the top spot in the women's halfpipe at Breckenridge, Colorado.

Seeing Kim gracefully soar into the air with the majestic Colorado Mountains in the background is truly breathtaking.

This 17-year old has a good shot of coming home with a gold medal at the South Korean games.

"It seems like a dream almost, and I'm trying to wake up," Kim said to NBC Sports "I think today when I get home, it's going to sink in, and I'm probably going to cry."


You can learn a lot more about Kim's personality in this interview about her father.



AsAmNews has Asian America in its heart.  We're an all-volunteer effort of dedicated staff and interns. You can show your support by liking our Facebook page at  www.facebook.com/asamnews, following us on Twitter, sharing our stories, interning or joining our staff.