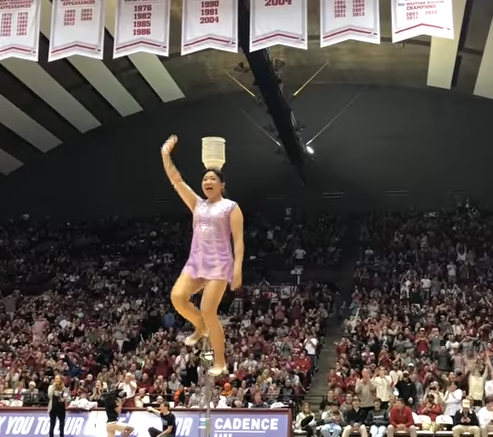 A fixture at NBA basketball games and other sporting events across the country will be made whole again thanks to the Golden State Warriors, reports ABC7.
The performer commonly known as Red Panda rides a unicycle while balancing tea cups. She wows her audience by flipping the cups up with her right foot and then catching and balancing them using only her head.
Her custom made unicycle from China was stolen from the baggage area at San Francisco International Airport last week, sparking concern from fans that one of their favorite half time performers would have to be sidelined.
The Golden State Warriors announced Friday they would replace her unicyle, alleviating concerns from her fans.
"She has done a number of half-time acts for us for more than 20 years now and she's always been a favorite of our season ticket holders," explained Warriors Chief Marketing Officer Chip Bowers.
The theft of the unicycle sparked news coverage across the country, including in Cleveland and Indianapolis. Since the theft, she has been performing using a backup unicycle, but the generosity of the Warriors was clearly appreciated.
"Their generosity is just amazing," her agent, Patrick Figley, told the Mercury News. "This cloud has been lifted. She was thrilled. She's really really appreciative. The Warriors are a great organization."
AsAmNews has Asian America in its heart.  We're an all-volunteer effort of dedicated staff and interns.  Check out our Facebook page  and our Twitter feed,  Please consider interning, joining our staff or submitting a story for consideration.