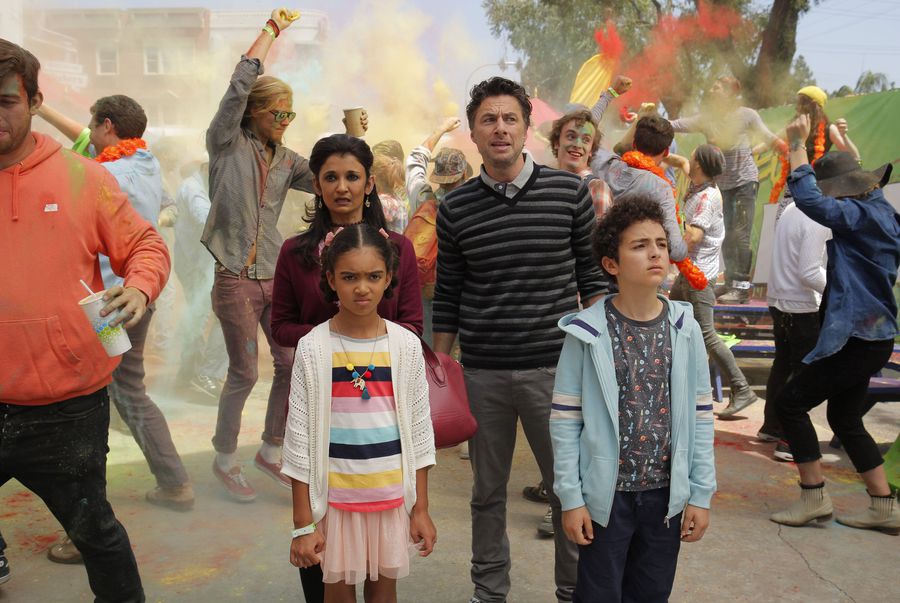 By Olivia Wolf
AsAmNews Staff Writer
It's rare to see a show focused on a multi-racial family, thus it's not surprising that many AsAmNews readers have taken an interest in learning more about Alex Inc, a new comedy starring Zach Braff and Tiya Sircar.
The show debuted last week and the second episode airs tonight (8:30/ 7:30 Central). I had a chance to preview the first three episodes and finished a bit underwhelmed.
Alex, Inc. is about a man who quits his job working at a happy-go-lucky radio station in order to create more meaningful content through his own podcast series.
The show is based on real life radio journalist Alex Blumberg and his podcast StartUp, which documents his experience founding the podcast company Gimlet Media.
In the television version of this story,  Braff (Scrubs) plays Alex Schumann, a blundering and awkward, but caring family man who gives up financial stability to pursue his dream career. Sircar (The Good Place) who plays his wife, Rooni , is Indian American and works as a public defender. She is by and large supportive of her husband's decision, though she must sometimes put her foot down, such as when Alex dips into their 401K account to fund the company without her consent.
The couple's two young children, Soraya (Audyssie James) and Ben (Elisha Henig), are smart-mouthed and sassy, and while their lines are clearly written by adults, they do offer a few laughs and play an important role, like all of the family, in shaping the success of Alex's podcast.
With many on the show feeling like stereotyped caricatures, Rooni is perhaps the only one who comes across as relatable. Instead of being comic relief, she adds a much needed feeling of authenticity to a show that is filled a bit too often with bubbly slapstick comedy that's just missing the mark.
The show directly addresses the multi-ethnic aspect of the family when Rooni's mother pays a visit to check in on Alex's business . Alex bends over backwards to prove how Indian he can be.

At the same time, Young Ben does his best to display his multicultural background at school in the hopes of winning the affection of his crush, Chloe (Eleanor Koski).
He's forced to compete with his popular classmate, the "super diverse" Sven Chang (Edouard Holdener) who is Chinese, Swedish and Brazilian. Ben brings in his grandmother's singaras (the Bengali word for samosas) to school. The ploy ends in disaster when it turns out his classmates can't handle the spice. "Oh no! We went too authentic!" exclaims Ben, as the kids cough and sputter.
While Alex, Inc. certainly has its cringeworthy moments,  it still has a feel-good appeal that makes the show an enjoyable pick-me-up.
AsAmNews has Asian America in its heart.  We're an all-volunteer effort of dedicated staff and interns.  Check out our Facebook page  and our Twitter feed,  Please consider interning, joining our staff or submitting a story for consideration.