Indian American CEOs have made it to the top on Comparably's 2018 lists for "Best CEOs for Diversity" and "Best CEOs for Women"

Comparably is a business-related online platform allowing workers to rate their workplace experiences.
These lists were generated after compiling anonymously submitted ratings by employees across a range of companies between May 23rd, 2017 and May 23rd, 2018, segmented by categories such as race, gender, age, location, and other demographic attributes.
While the survey on diversity focused on the extent to which company leaders foster an inclusive, respectful work environment, the survey on women looked at how sensitive bosses  were to issues regarding women in the workforce, taking into account inclusive hiring, paid maternity leave, and the closing of the gender wage gap — according to Inc.
As noted by the Los Angeles Times, Asian Americans have difficulty breaking the "glass ceiling", being the ethnic group least likely to be promoted into managerial and executive positions. Despite their success in being hired by tech companies, systemic barriers prevent them from climbing up the corporate ladder to occupy higher paying leadership positions. Asian American women, especially, struggle with landing corporate leadership positions, being 25% less likely to lead a board meeting than White women.  
While there is still much work to be done socially and culturally for Asian Americans to shatter the glass ceiling, these Indian American CEOs have made successful strides in puncturing it; serving as pioneers for future Asian American business leaders while cultivating a workplace environment that is diverse, inclusive, and women-friendly.
Check out at these Indian American CEOs who have made positive impacts on their company's workforce: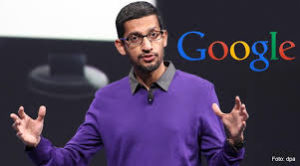 Sundar Pichai
Sundar Pichai, the CEO of Google, is ranked sixth under "Best CEOs for Diversity", and thirteenth under "Best CEOs for Women", receiving an average score of 81 out of 100 from Google employees.
With an average score of 85, African American Google employees rated the CEO the highest, followed by Caucasians, Hispanics, and Asians respectively, providing scores around 80-81.
Although male employees rated Pichai higher than women at an average score of 81, the average score for women is nearly identical, standing at 80.
Referring to their company and Pithai, a Google employee stated that "The culture is very diverse, nerdy, and engineered for people like me".
Satya Nadella
Satya Nadella, the CEO of Microsoft, is ranked right below Sundar Pichai for diversity at a solid seven. He also succeeds in providing women a safer, more accommodating work environment, winning second place for "Best CEOs for Women". His overall CEO rating is an 82.
Similar to Pichai, Nadella was rated most highly amongst African American employees at a score of 88, whereas Native American and Asian and Pacific Islander employees rated him the lowest at respective scores of 78 and 82.
Female employees rated the CEO higher than male employees, averaging a score of 83 compared to the average score of 81 delivered by men.
IndiaWest quoted on Microsoft employee saying "The most positive thing about the culture is the diversity and inclusion of people, thoughts, and ideas. Microsoft puts empathy at the forefront."
Shantanu Narayen 
Receiving an overall CEO rating of 84, Shantanu Narayen, the CEO of Adobe is ranked twenty-five for "Best CEOs for Diversity", and fifteenth under "Best CEOs for Women".
Despite his rankings for diversity and women being lower than Pichai and Nigella's, his impact on cultivating a women-friendly work culture exceeds that of the Google and Microsoft leaders, receiving an average score of 86 by female employees.
Likewise, Hispanic or Latino employees at Adobe rated Narayen the highest relative to other ethnic groups, responding with an average score of 90. Ethnic groups classified as "Other", as well as Asians or Pacific Islanders, rated Narayen the lowest at an average score of 80 and 85,  respectively.
Indian American CEOs of small-to-midsize companies
Equally, as impressive, Indian American CEOs such as Sameer Dholakia of SendGrid and Mahe Bayireddi of Phenom People were also highly ranked; Dholakia being ranked second on the Best CEOs for diversity list, and Mahe Bayireddi of Phenom People being ranked first for diversity.
Comparably has released additional lists such as "Best Leadership", "Best Managers" and "Best Companies for Professional Development".
AsAmNews has Asian America in its heart.  We're an all-volunteer effort of dedicated staff and interns.  Check out our Twitter feed and Facebook page for more content.  Please consider interning, joining our staff or submitting a story.