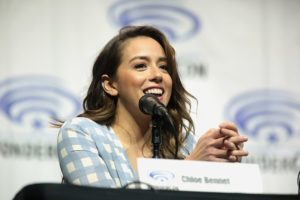 Actress Chloe Bennet of Marvel's Agents of S.H.I.E.L.D. fame on ABC is going public about her relationship with shamed actor and You Tuber Logan Paul
.
Bennet responded to a tweet from a fan asking why she would date such a person. Logan caused an uproar on New Year's Eve when he posted video from Japan of a suicide victim's body on his You Tube Channel. The video was quickly removed, but not before generating 6 million views.
Cause he's kind, creative, funny, vibrantly curious about life, weird as fuck in all the best ways, a big dork, and he's one of my best friends. It doesn't make sense to a lot of people, but it doesn't have too. He's changed my life for the better and I've done the same for him.

— Chloe Bennet (@chloebennet) July 11, 2018
That tweet and response has sparked a social media debate over Bennet's dating choice.
changing surname to a white one, advocating asian culture but is now dating a racist who filmed a dead body in Japan and disrespects their culture. sure, go ahead. at least you're no longer part of our asian community ??‍♀️

— kristie (@krxspie) July 13, 2018
— ㅑ ⲥⲏυυㅡⲧⲏⲉㅡDⲩⲕε ㅕ (@loonahdpics) July 12, 2018
Well that's just sad.

— Joseph Cadena (@chiyonosake_89) July 12, 2018
A smattering of fans, however, were a bit more understanding saying who she dated was nobody's business.
Because he deserves a second chance and has he ever filmed something as inappropriate as that after the whole controversy? No. He learned his lesson. So FORGIVE AND FORGET. Mind your own business and worry about your own love life!

— Jade. (@Jade76969598) July 13, 2018
Congrats to both of you I think you and @LoganPaul are a very cute couple ☺️

— Vivi_Lee (@VivienUhlmann1) July 12, 2018
The debate started after a few hours after Bennet called out OceanUp for posting this tweet.
.@chloebennet confirms her low dating standards by revealing she's dating @LoganPaul: https://t.co/KEYXcdzuCY pic.twitter.com/mXkFWT6944

— OCEANUP (@OCEANUP) July 13, 2018
.@OCEANUP confirms their low standards of journalistic integrity by posting shitty regurgitated celebrity gossip from bigger news sites.

— Chloe Bennet (@chloebennet) July 13, 2018
AsAmNews has Asian America in its heart.  We're an all-volunteer effort of dedicated staff and interns.  Check out our Twitter feed and Facebook page for more content.  Please consider interning, joining our staff or submitting a story.