Views from the Edge
Commentary
Actress Lana Condor, star of To All The Boys I Loved Before, spoke up about her views on the criticism that there should have been at least one Asian American among the boys her character Lara Jean Covey crushes on.
To All the Boys I Loved Before, a romantic comedy film based on the best-selling young adult novel by Korean American author Jenny Han features three sisters whose Korean American mother died a year earlier and are being raised by their white father.
"We tried to stay really close to the book and they weren't written that way. If Jenny was telling a different story, we would tell it," Condor told The Cut. "But I will say this: My boyfriend in real life is Cuban but he is very light-skinned. There are times when people online will say, 'Of course she's with a White guy.' Oh, so Asian people can only love Asian people? I can only be with my race?"
"You are being racist unknowingly and continuing to put us in a box that we don't need to be in. It's really unfair. People should be able to love who they want to love. It's offensive to me — you're continuing to promote tribalism. So I can't be with who I want to be with? These are probably the same people who have an issue with the LGBT community. It's the same thing — you telling me who I can love is unfair," she said.
"In my experience, I've loved all races. It's not like I can only be with my people. I don't think we should be stuck to only loving people based on what they look like," said the 21-year old Vietnamese American actress.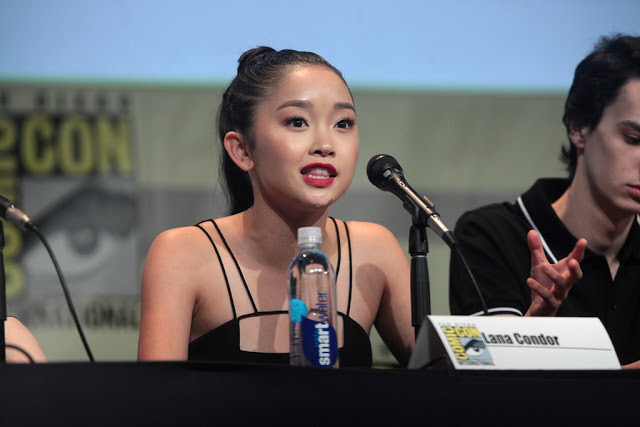 Condor might be missing the point of the criticism. There was an opportunity to cast an Asian American actor but the thought never crossed the mind of the director and casting director. It only seems natural that an Asian American girl would at least know one Asian American boy. It is that way in the real world. The character wouldn't necessarily had to "win" the girl's heart, but at least have him in the game.
Author Han acknowledges that Asian males need better representation beyond the old stereotypes, but not in this movie.
There is one scene in which Lara Jean, her little sister and Peter, one of the love interests, are watching Sixteen Candles and they point out the racist nature of Long Luk Dong. That's the only presence of an Asian male in the movie.
The movie, available now on Netflix, has been widely praised and Asian American girls are reportedly streaming the film over and over. Having Lara Jean and her two sister play key roles in a popular movie is a step forward and it apparently is having a positive impact on young Asian American girls.
"For the most part, the fans are really excited and happy.  … That's who we are trying to please at the end of the day," says Condor.
Ahhhhhh To All The Boys I've Loved Before was so cute and delightful!!!!!!!!!

Also, I'm pinching myself that I got to watch not one but TWO movies featuring Asian American leads this week. Feeling so weepy.

— Emily X.R. Pan (@exrpan) August 19, 2018
just watched to all the boys i've loved before and cannot describe my happiness and emotion over lara jean and her sisters being specifically half asian half white ??????

also the movie was SO CUTE i died at least 17 times probably

— ????? ???? ????? ????? (@apricotjoy) August 19, 2018
AsAmNews has Asian America in its heart. We're an all-volunteer effort of dedicated staff and interns. Check out our Twitter feed and Facebook page for more content. Please consider interning, joining our staff or submitting a story.