At a Senate Judiciary Committee hearing to consider the nomination of Judge Brett Kavanaugh to the U.S. Supreme Court, two Asian American senators made strong opening statements challenging Kavanaugh and enumerating the huge stakes for this appointment.
U.S. Senators Kamala D. Harris, D-CA, and Mazie Hirono, D-HI, Tuesday gave stinging commentary and didn't mince words when talking about what's at stake in filling the Supreme Court seat that opened up when Justice Antonin Scalia died last year.
Sen. Mazie Hirono, refused to meet with Kavanaugh last month because she wanted him under oath while giving his answers.
"These ultra-right-wing forces have been working for decades to prepare for this moment because they know that a single vote from one justice is all it would take to radically change the direction of our country.
"It could take just one vote on the Supreme Court to overturn Roe v. Wade, and deny women control over their reproductive rights.
"It could take just one vote to declare the ACA's preexisting condition protections unconstitutional.
"It could take just one vote to dismantle environmental protections that keep our air safe to breathe and our water clean to drink.
"It could take just one vote to dismantle common sense gun safety laws that keep our communities safe," said Hirono, the only immigrant in the judiciary committee.Harris spoke out against Kavanaugh's history of carrying out a conservative, partisan agenda, and questioned his position on whether a president is above the law.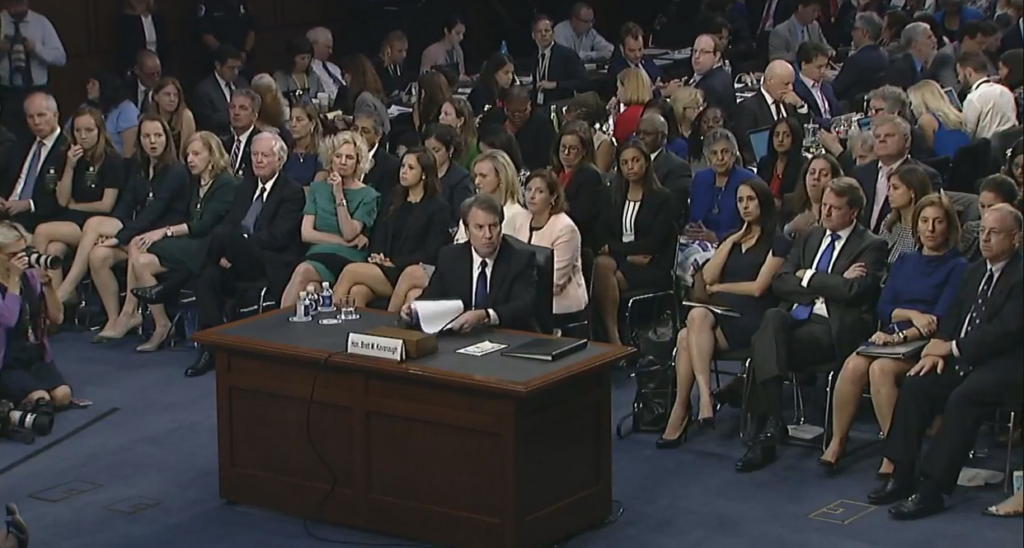 "And it could take just one vote to further erode protections for working people and unions. Harris objected to Kavanaugh's confirmation hearing, noting the lack of transparency in the process and the decision by Republicans to release 42,000 documents hours before the hearing without adequate time for review," said Harris.
Earlier, Harris joined the coordinated attempt to postpone the hearings because of the last minute release of those documents. Chairman Chuck Grassley, rather than risk that one or two Republicans on the committee might be swayed, refused to put the motion to a vote.
"This is a hearing about who will sit on the highest court of our land," said Harris. "This is a hearing that is about who will sit in a house that symbolizes our system of justice in this country. And some of the most important principles behind the integrity of our system of justice, is that we have due process, and we have transparency. That is why we have public courtrooms. That is why we have requirements in courts of law in our country that there will be transparency, that both parties will be given all relevant information. We can argue, then, as to the weight of the documents and the significance, but not as to whether or not they're admissible. So I object."
"In reviewing this nominee's background, I am deeply concerned that what guides him is not independence or impartiality. It's not even ideology," said Harris. "I would suggest it is not even ideology. What I believe guides him and what his record that we've been able to see shows, is what guides this nominee is partisanship."
"
This nominee has devoted his entire career to a conservative Republican agenda. Helping to spearhead a partisan investigation into President Clinton," she said. "Helping George W. Bush's legal team ensure that every vote was not counted in Bush v. Gore. Helping to confirm partisan judges and enact partisan laws as part of the Bush White House. And in all of these efforts, he has shown that he seeks to win at all costs, even if that means pushing the envelope."
"Judge Kavanaugh," continued Harris. "I am concerned whether you would treat every American equally or instead show allegiance to the political party and the conservative agenda that has shaped and built your career. I am concerned your loyalty would be to the President who appointed you and not to the Constitution of the United States."
After seven hours, Kavanaugh finally got the chance to speak. He talked about his family and friends but failed to adequately answer many of the questions and issues presented by the Democratic senators.
He gave a familiar response used by other conservative judges. He said the court "must never be viewed as a partisan institution" and argued that "a good judge must be an umpire — a neutral and impartial arbiter who favors no litigant or policy."
The raucous hearing was interrupted repeatedly by demonstrators in the audience who yelled their objections to the Trump presidency and to Kavanaugh's nomination. Sixty-one demonstrators were removed from the hearing.
Direct questioning of Kavanaugh will continue today.
The president is an unindicted co-conspirator in federal crimes and he has nominated someone to the Supreme Court who believes a sitting president should never be indicted.

Retweet if you agree that Kavanaugh's hearings should be delayed until these investigations are completed.

— Kamala Harris (@KamalaHarris) August 31, 2018
It is a mistake to refer to women who are using their voices to protest this Supreme Court nominee as hysterical. pic.twitter.com/DrIFkG3VJ2

— Kamala Harris (@SenKamalaHarris) September 5, 2018
AsAmNews has Asian America in its heart. We're an all-volunteer effort of dedicated staff and interns. Check out our Twitter feed and Facebook page for more content. Please consider interning, joining our staff or submitting a story.