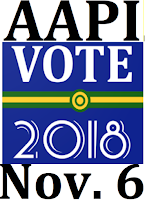 Asian American voters in North Carolina could make the difference in several key Congressional and state races, according to a new report from North Carolina Asian Americans Together.

The report found that Asian Americans are the fastest growing minority in the state, with the AAPI population growing 144 percent from 2000-2016. There are more than 89,000 Asian American voters in the state. Facing South reports that number has doubled in the last decade.

Those voters are concentrated in four counties-Wake (79,162), Mecklenburg (61,859), Guilford (27,306) and Durham (14,634) where they are in position to swing the election.




According to Facing South, there are three tight U.S. House Races in 2018 and a dozen close state races, as well as six proposed amendments to the state constitution. 52 percent of Asian American voters in the state are independent or unaffiliated.

"Asian American communities are a growing force in North Carolina," Chavi Khanna Koneru, executive director of NCAAT, said to Facing South. "At a time when issues affecting immigrants and communities of color are in the national spotlight, it's more important than ever to educate and motivate our families, friends and neighbors."

Voter enthusiasm is said to be high among Asian Americans. A national survey from AAPI Data found 48 percent of Asian American voters polled say they are enthusiastic about voting this year versus 28 percent in 2014. NCAAT hopes this will help overcome the low voter turnout among Asian Americans in North Carolina. 56.5%  of AAPI voters cast a vote in 2016 versus 69% statewide.

AsAmNews has Asian America in its heart. We're an all-volunteer effort of dedicated staff and interns. Check out our Twitter feed and Facebook page for more content. Please consider interning, joining our staff or submitting a story.