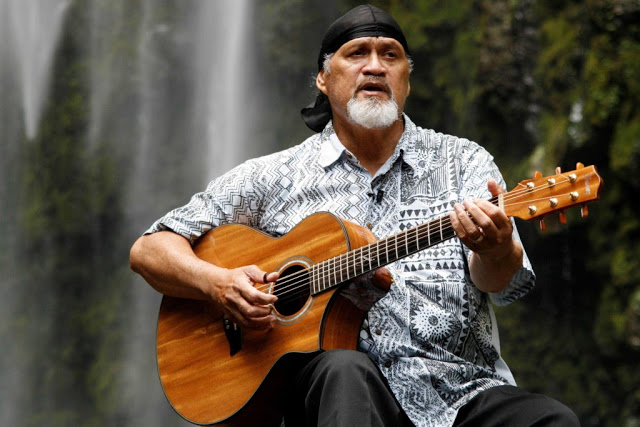 Views from the Edge
There's nothing more soothing than Hawaiian slack-key guitar and songs. Like gentle waves lapping on an island beach, the music washes over you softly, massaging away your tensions and worries.
Last week (Nov. 19), Hawaiian guitarist and singer Cyril Pahinui died at the age of 68.
Pahinui, a Grammy-nominated master of slack-key, succumbed to respiratory and kidney failure in Honolulu. Pahinui had been hospitalized since Feb., 2016, over complications related to exposure to Agent Orange during his time serving in Vietnam, his widow, Chelle Pahinui, tells NPR.
Cyril Pahinui, who the Native Arts & Cultures Foundation identifies as Native Hawaiian, was born and raised in Waimanalo, Oahu, far from the glitter and lights of the tourist strip of Waikiki.
It was there where he learned his artform from his father, renowned slack key guitarist Gabby Pahinui. The younger Pahinui turned his gift into a prolific half-century career that included two Grammy nominations, the Gabby Pahinui Waimānalo Kanikapila festival and an enduring influence on later generations of Hawaiian musicians.
Pahinui received the Hawai'i Academy of Recording Arts Ki Ho'alu Award in 1997 and again for a second time in 2017. He was given the Hawai'i Academy of Recording Arts Lifetime Achievement Award in 2014.
He was also honored as a 2017 National Endowment for the Arts National Heritage Fellow in September 2017, and was the 2018 recipient of the Rotary Club of West Honolulu's David Malo Award in October of this year.
Survivors include his wife, Chelle Pahinui, daughters Amber, Andrea, Anne, Carrie, and Elizabeth, 19 grandchildren, his brothers James ("Bla") and Philip Pahinui, and sisters Margaret Pahinui Puuohau and Madelyn Pahinui Coleman.
Pahinui's final album, made up of recordings from the '90s and titled Marketplace, was recently released. Celebrate the late musician through these songs and performances:
AsAmNews has Asian America in its heart. We're an all-volunteer effort of dedicated staff and interns. Check out our Twitter feed and Facebook page for more content. Please consider interning, joining our staff or submitting a story.