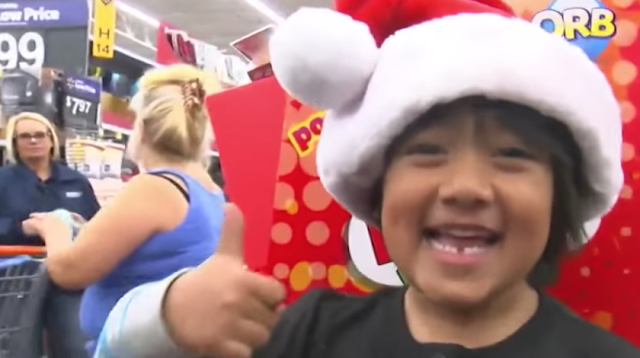 FORBES just released its list of highest-paid YouTube stars of 2018. At the top of the list is a 7-year-old Asian American boy who earned $22 million this year … by playing with toys.


The youngster launched his channel when he was just a innocent little kid of 4. In three years, he's topped all the older vloggers in terms of earnings.


Ryan, the fun-loving son of mom Loann and dad Sean, is the adorable "host" of  Ryan Toys Review a popular toy-review channel on YouTube. His parents often appear in his toy reviews.Ryan's parents, who prefer to not divulge their last name, began taping their son's toy reviews in March 2015, and have now amassed more than 17 million subscribers. While Ryan's follower base isn't as large as some of the other older YouTube stars, his growing influence on the toy industry helped double the family's earnings from 2017 when he earned only a modest $11-million just from his YouTube channel.

For the naysayers who think his parents are exploiting him, most of his earnings are being stored in an account that Ryan will only be able to access as an adult. According to Forbes, the rest probably pays for the toys he reviews, as well as production costs.
About $21 million comes from pre-roll advertising on his channels, Forbes reported. As the views mount – and Ryan has more than anyone else on Forbes' list – so do the automated ad dollars.
The rest of the money comes from sponsored posts. Other YouTube stars earn far more in sponsored posts, but Ryan's audience, which happens to be children, really doesn't have a lot of disposable income.

Ryan Toys Review was one of several YouTube brands to partner with pocket.watch and Bonkers Toys to create a new line of licensed toys and books featuring YouTube stars. The Ryan's World toy line was the first to be released in an exclusive partnership with Walmart earlier this year.
There's really no secret to his success, He says it's his personality. "I'm entertaining and I'm funny," he told NBC.
BBC notes that this year's rankings also saw controversial vlogger Logan Paul fall to 10th place from fourth place, after YouTube pulled him from the Google Premier ad service due to a highly insensitive video he filmed in Japan's "suicide forest."

The rest of the list is packed with what you might expect" fresh-faced Millennials who make millions by entertaining followers with their travels, gaming skills, pranks, make-up tutorials and merchandise reviews.
AsAmNews has Asian America in its heart. We're an all-volunteer effort of dedicated staff and interns. Check out our Twitter feed and Facebook page for more content. Please consider interning, joining our staff or submitting a story.