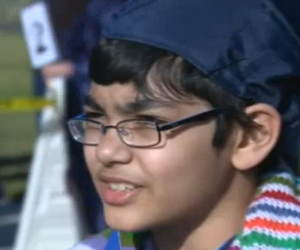 In 2014, at the mere age of 10, young Indian American Tanishq Abraham graduated from high school, becoming one of the youngest students ever to receive a diploma. After receiving 3 associate degrees from American River College just a year later, Abraham astonished the American public again, graduating with the highest honors in biomedical engineering from the University of California at Davis in 2018. At just 14, this made him the youngest biomedical engineer in the United States. Now, to kick off 2019, alongside beginning his track for a Ph.D, this teen prodigy has also been honored by the Vatican with the 2018 Sciacca Vincitore Assoluto (Absolute Winner) Award.
The Vatican created the Sciacca Award in 2001 to acknowledge monumental contributions made by various people who have stood out in a variety of fields such as science, the arts, sports and social justice. The awards were granted by the American Cardinal Prelate His Eminence Raymond Leo Burke, Deputy Prime Minister of Italy and Minister of Interior Matteo Salvini, President of the Giuseppe Sciacca Foundation Prof. Don Bruno Lima, and Secretary-General Dr. Vicky Bafatakis.
In an interview with India West, Abraham commented on his award stating that "I'll always remember being in the Vatican, receiving the award and a standing ovation from the hundreds of attendees and dignitaries – it was a humbling experience. I'll also remember the happiness on my parents' faces – they and my sister have been my support, and this award is for them, too."
Alongside Abraham, others were awarded at the Vatican's Pontifical Urbaniana University including his sister for her contributions in music across the globe. Over 550 guests attended this event, including many dignitaries and government officials.
With an immense drive that has helped him earn 3 associate degrees, win a prestigious award and set him on a track of becoming a PhD, Abraham continues to wow and push the boundaries of what teenagers can accomplish.
AsAmNews has Asian America in its heart. We're an all-volunteer effort of dedicated staff and interns. Check out our Twitter feed and Facebook page for more content. Please consider interning, joining our staff or submitting a story.