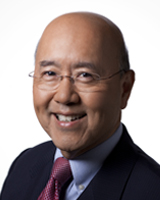 Long time San Francisco TV news reporter David Louie ducked for cover after he and his photographer saw a gun pointed at their heads.
The two had been ready to conduct an interview when they saw a woman being robbed of her wallet in downtown San Jose.
"The robbery suspect was starting to run off. In fact, he pointed a large handgun at us when he turned around and saw our camera, probably assuming we had captured everything on video, Louie wrote on his Facebook page.
"Alex (the photographer) dropped to his knees. I ducked for cover, expecting to hear a shot," he continued. "The suspect ran off. Fortunately, no shot was fired."
Louie is one of the first Asian American television reporters in San Francisco. He has been reporting for ABC7 for 43 years. He also serves on the Board of Directors of the Radio and Television Digital News Association and is also a past National President of the Asian American Journalists Association.
In his Facebook post, Louie wrote less about himself and more about a good samaritan who ran to the aid of the robbery victim, a woman who was left in tears and clearly shook up.
Louie reported the man stayed with the woman to console her until police completed taking their report. Unfortunately, the suspect escaped before he could be caught.
The man who asked that his name not be used said he ran to the woman because he too has been robbed, but no one came to assist him. He said he could not bear for that to happen to this victim.
"The victim is shaken but doing all right, thanks to a bystander who decided to step into the fray and offer support We do have heroes among us," wrote Louie.

AsAmNews has Asian America in its heart. We're an all-volunteer effort of dedicated staff and interns. Check out our Twitter feed and Facebook page for more content. Please consider interning, joining our staff or submitting a story.