By Raymond Douglas Chong (Zhang Weiming)
Salt Lake City, Utah- Under a crystal starry sky, along the lakeshore of the Great Salt Lake, at the ballroom of Marriott City Creek Hotel, in Salt Lake City, Utah, the Chinese Railroad Workers Descendants Association (CRWDA) last night honored three figures for their achievements.
At the CRWDA Awards Gala, Celebrating Our Pioneer Spirit, Michael Kwan, CWDRA President, and Margaret Spike, Golden Spike Conference Chairperson, presided over the Saturday evening program for 500 people, while Crystal Lee, host and producer of This is SF, emceed. Sim Gill, Salt Lake County District Attorney, gave a rousing speech about the contribution of the Chinese Railroad Workers during the Transcontinental Railroad.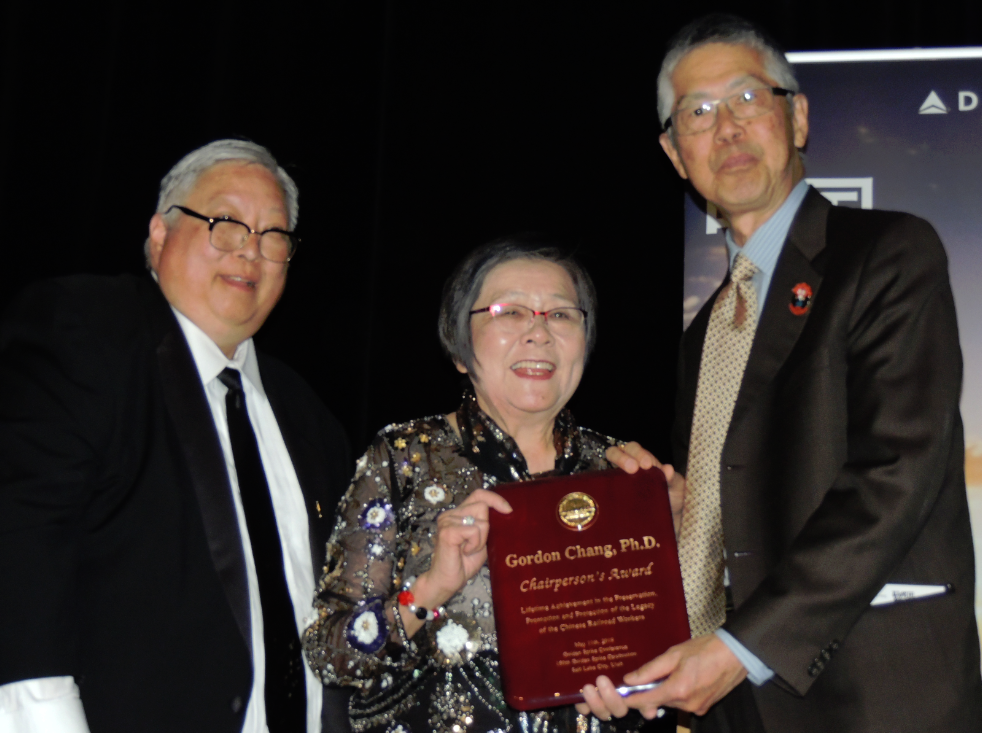 CWDRA honored:
Chairperson's Award – Gordon Chang, Ph. D., Stanford University, co-director of Chinese Railroad Workers in North America Project. He is co-editor of The Chinese and the Iron Road: Building the Transcontinental Railroad and author of Ghosts of Gold Mountain: The Epic Story of the Chinese Who Built the Transcontinental Railroad.
President's Award – Corky Lee, legendary Asian Pacific American photographer laureate and community activist, from New York City . He is known for shooting photos that show the dynamic Asian Pacific American community.
Director's Award – Wilson and Esther Lee, founders of Chinese American Heritage Foundation, that promotes the recognition, appreciation and celebration of historical contributions of Chinese Americans in the nation. They sponsored the Harmony Through Union float in the 2019 Rose Parade that honored the Chinese railroad workers of the Transcontinental Railroad.
In a delightful moment, Corky Lee proudly presented a worn iron spike to Connie Yu Young, a descendant of a Chinese railroad worker, Lee Wong Sang. Connie is a tireless champion for promoting the legacy of the Chinese railroad workers.
AsAmNews has Asian America in its heart. We're an all-volunteer effort of dedicated staff and interns. Check out our Twitter feed and Facebook page for more content. Please consider interning, joining our staff or submitting a story