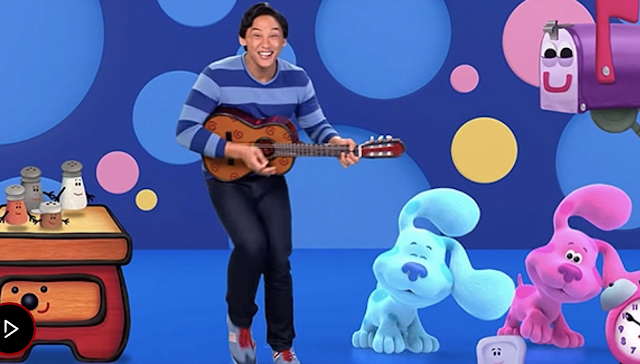 To all you AAPI parents of young children, are you tired of singing that Baby Shark song, over and over again to your toddler? Relief is on the way and you get the added bonus of having your children idolize someone who looks like them.


Nickelodean is bringing back Blues Clues, that old cartoon mainstay that premiered in 1996 and continued to entertain and educate millions of youngsters who are today's Millennials and possibly having children of their own.

The original host, Steve Burns, who is helping produce this reincarnation for a new generation of kids, helped select his replacement, none other than Filipino American Josh dela Cruz. The production company released its first sneak look at the new show, which has been renamed Blues Clues and You! featuring Dela Cruz and all his animated friends.

Growing up "I didn't see anyone who looked like me on American film and television. More specifically, there weren't any Asian actors that played Americans," he told Huffpost. "I had always felt that if you wanted to be on television, you had to know how to fight or have an accent. It was incredibly alienating."

If lack of relatable role models on television has a huge impact. Recently there have been a spate of stories how even established stars such as Harry Shum, Jr. and Kumail Nanjiani suffered with their identity because there was no one on TV that looked like them.

Dela Cruz played the understudy of Aladdin and a member of the ensemble in Broadway's stage musical of the Disney animated movie. He also appeared in theater roles for Here Lies Love and Encores!: Merrily We Roll Along, and television roles on CBS' Bull and ABC's Time After Time.
"From the moment we decided to make a new version of the series, we knew that so much of the energy and magic of the show comes from the host's ability to bring preschoolers into the colorfully animated world of Blue and her friends," said Cathy Galeota, Nickelodeon Group's senior vice president of preschool content. "Josh's wonderful theater background and his natural charisma checked all the boxes for us, and of course Steve's stamp of approval only solidified our decision."


"I give Josh two thumbs up! ," says Burns. "He can definitely fill my shoes, and the rugby shirt."
"What they did, which was wonderful for me, was that they gave me some coaching time with Steve. So Steve was my Jedi master in the auditions and he was helping me, prepping me, making sure I actually talked to the person on the other side of the camera," says Dela Cruz.
"It was one of the most mind-blowing things when he said, 'When you're asking a question you're not asking the kid because they're there. You're asking the kid because if you're talking about skateboarding, they're the Tony Hawk.' I remember my mind just exploded. Oh, my gosh, that makes so much sense. That's the importance. We're usually talked down to as kids or told to be quiet, but to really be asked by an adult, "Well, what do you think?" That's so, so powerful, and Steve being my Yoda throughout this entire thing has been such a gift, so we'll see what the season has in store."


The problem is, it won't debut until November this year. So you've got all summer and fall to sing "Baby shark. Dut, dut. Dut, du dut du du…
AsAmNews has Asian America in its heart. We're an all-volunteer effort of dedicated staff and interns. Check out our Twitter feed and Facebook page for more content. Please consider interning, joining our staff or submitting a story