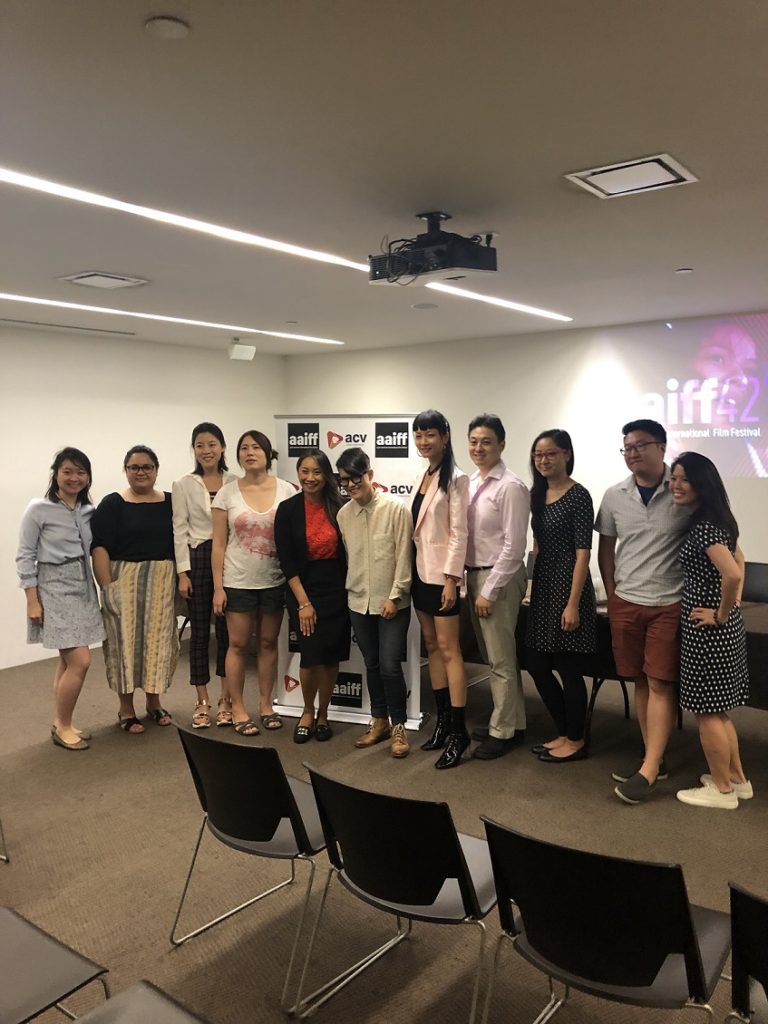 By Rachel Chou
When there are as many panel members as attendees, a press conference can resemble opening night of a middle school musical: mid performance, a child's realization the reserved seat in the front row is still empty.
The Asian American International Film Festival (AAIFF) press conference panel in New York City, consisting of: Peter Lee (Happy Cleaners, closing night August 3), Cecilia Meija (Yellow Rose, opening night July 25), Doris Yeung (The Ugly Model, July 26), David Chai (Alternate Ego), Candace Lang (Alternate Ego), Serena Kuo (End of Summer), Nicole Maxali (Good Vibes), and Veronica Dang (Extinct) was a call for representation and support from the Asian American community.
Crazy Rich Asians from Director Jon M. Chu was a turning point for Asian representation in the media in 2018. In 2019, it feels like momentum has burgeoned, with Ali Wong's Always Be My Maybe, Lulu Wang's The Farewell, and Marvels upcoming superhero movie with the first Asian superhero, Shang Chi. The looming question, as often thought in times of change, what will keep the momentum?
Nicole Maxali (Good Vibes) says twenty years ago her college professor dissuaded her from writing her final paper on Asian American artists, writers, and directors because "there weren't enough". Today the 42nd year of AAIFF is an accomplishment in itself, exemplary of endurance and hope. But Candace Lang (Alternate Ego) says although Crazy Rich Asians has received attention and critical acclaim today, she thinks the storyline is still very cliche. "What's really missing in any minority community is the true representation of who we are as human beings. Not being stereotypical about immigration or a particular family issue of the Asian culture. We need representation that speaks to all cultures just like any western, American, or European family. We need something to speak broadly to the world.", Lang says.
Serena Kuo's film is an example of that notion, End of Summer about a teenagers tragic experience with loss. Kuo says she wanted to create a story with a protagonist who just happens to be queer. "It's not a story that has to focus on coming out or Chinese tradition. She just happens to inherit this large rich spectrum of different kinds of identities. That for me is also a form of representation. The fact that we can be these complex normalized characters existing of wide array of narratives and we can own up to all these different qualities but our stories don't have to be centered around those." Kuo said.
Most of the films represented on panel were stories that help round out the complexity and diversity of Asian American experiences. Happy Cleaners is about a Korean American working class family in Queens, New York. Yellow Rose is a story about an undocumented Filipino girl trying to achieve her dreams of being a musician as she faces deportation. Cecilia Meija, producer of Yellow Rose, says "We're a small underrepresented sector within the community and I think that's where we need to support because we need to show up for each other. We have to support everybody.", she says.
Nicole Maxali was inspired by her own community, Filipino Americans in San Francisco, when she created her comedy series Good Vibes. "All Asians are not the same. We're not the one stereotype of college going doctors or lawyers. Especially Filipinos? I'm the only one in my family to graduate from college. There's a whole culture, community that's not always shown in Crazy Rich Asians. I was inspired by my own community and friends, and just the cannabis community in general to write something that was authentic and real to me and didn't just show the stereotypical pot-head, funny, weed, comedy."
The genesis of Doris Yeung's documentary The Ugly Model was that she didn't want to do it until she realized she realized she needed to share the subject's story, for him. Yeung says, "I normally don't do documentaries, and never desired to do a documentary. What inspired me was the subject himself, Kevin, a Korean adoptee who grew up in Philadelphia. He actually said that in the process of making the film, it made him feel like someone cared about his struggle, his story." Kevin is an Asian male model who struggles with insecurities because of the emasculation of Asian males in America media and culture. Yeung says, "I think that's what inspires a lot of these stories. That people care enough to tell the story, whatever format it is. And there's not a lot of Asian American storytellers, film and television makers, journalists, writers. It only takes inspiration and then you have to do it. Support those people, even train those people. If they don't know how to tell a story, show them how to do it, and then show their stories in a festival and distribute it. So the wider communities can see our stories."
Recently LuLu Wang revealed that when pulling finances for her Awkwafina led movie The Farewell, financiers both Chinese and U.S. told her to cast a White male in order for her movie to be successful, according to HuffPost. Despite this, Wang stuck to her truth. Many of the filmmakers on the panel spoke to the importance of integrity of your creative vision. Veronica Dang (Extinct) says, "I don't think about how can I appeal to a bunch of people. I just want to tell my truest story. I think when you tell your story, it's universal. Because people can relate to otherness or family issues or whatever it is." Dang says that mainstream success can be a goal, but there are also other outlets where your voice can still be shared and heard.
On both sides of the screen, behind and in view, creators and viewers from minority backgrounds have the opportunity to speak up, bear witness, show up, and support, to give momentum the will to move forwards.
"Representation is about being visible. Because you're not visible if you don't speak, you don't exist to others. And I think that's what we're doing now. It's the start of something real this time. I hope it continues. It's actually all our jobs to make it continue." Yeung says.
The Asian American International Film Festival runs tonight through August 3.
AsAmNews has Asian America in its heart. We're an all-volunteer effort of dedicated staff and interns. Check out our Twitter feed and Facebook page for more content. Please consider interning, joining our staff or submitting a story.