Photos from CAIR-NJ.
Over 50 Muslims and fellow supporters held signs reading "Resign Now!!" and "Hate Has No Home Here" on Wednesday at a Toms River Regional Board of Education meeting to protest a board member for his anti-Muslim social media comments, reports the Asbury Park Press.
Board member Daniel Leonard, 42, made anti-Muslim posts on a personal Facebook page, which the New Jersey Chapter of the Council on American-Islamic Relations (CAIR-NJ) sent to the media last month. One included a link to a Fox News article about Rep. Rashida Tlaib, in which he wrote, "My life would be complete if she/they die."
In his defense, Leonard responded, "The congresswoman is trying to shut down a federal agency of the government, right, so my point was, 'let her starve.' And I say it again, how is that offensive to Muslims. Just because she's Muslim?"
A rally took place outside the New Jersey meeting, where protestors used a microphone to speak out against Leonard's actions.
"Mr. Leonard is one thing, and one thing only, and that's a bully," said Toms River High School North graduate Zachary Dougherty. "And in Toms River schools, we don't stand for bullies."
"We are here because our Muslim community is under attack by a person who fashions himself a free speech champion, but has shown himself to be a symbol of hate and bigotry," said Gloucester Township teacher Kelly Morris.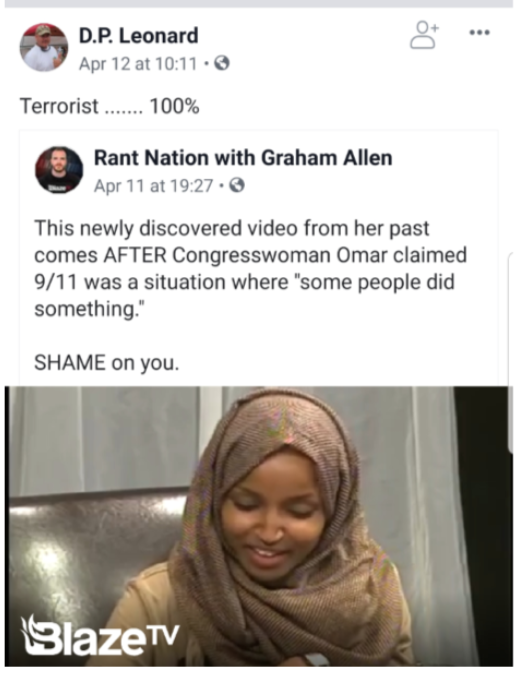 Afterwards, people went inside to attend the meeting, where protestors got an opportunity to speak in front of the board.
"If we allow this to stand unquestioned, what message does this send to our Muslim students and faculty?" said Toms River resident Lisa Gertner, cofounder of Reaching Across Faith Traditions, whose goal is to bridge cultural and religious divides in the community.
"As an Arab-American student in this district, when I was a 7th grader, I was accused of being a bomber," said Toms River High School North graduate Lilah Saber. "Later, a teacher told me to my face that she doesn't trust me."
Leonard's supporters spoke up to defend him as well.
Richard Denicola, who claimed he served with Leonard in Afghanistan, said Leonard was neither anti-Muslim nor racist, mentioning that Leonard saved a Muslim child from a burning building.
"There is no such thing in America as hate speech," said Joe Ferrandino. "If the man did something wrong, he deserves to be punished, but demanding that he step down because you don't like what he had to say, well that's tough."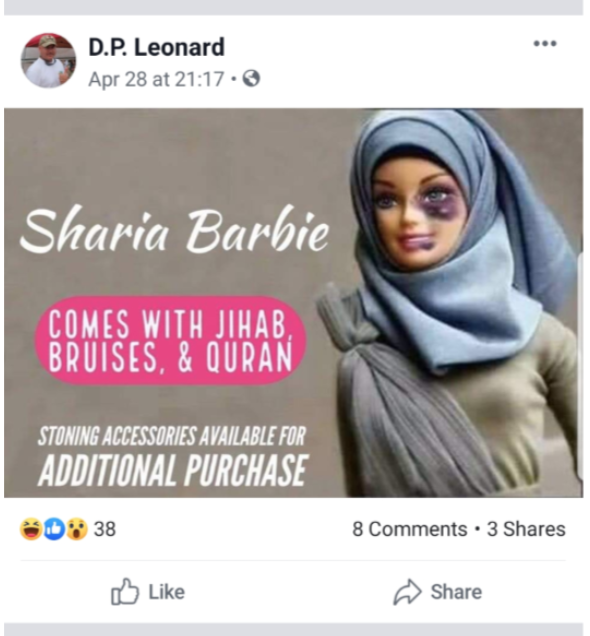 At a July board meeting where supporters had demanded he resign, Leonard said he would not seek reelection but will not resign during his current term, which ends December 31.
"Nobody has any personal attack against him. He's an admirable man; he's served his country well," said School Board Attorney Stephan R. Leone. "But he is held to a different standard, and that's what this board is about."
CAIR-NJ has filed an ethics complaint, according to attorney Nina Rossi. Leone said that the board cannot collectively remove a member; he explained that an individual member would have to file a complaint, but Leonard's term would likely end before any ethics hearing could take place, according to NJ.com.
AsAmNews has Asian America in its heart. We're an all-volunteer effort of dedicated staff and interns. Check out our Twitter feed and Facebook page for more content. Please consider interning, joining our staff or submitting a story.