Ed Dionko, Views from the Edge
I was greatly disappointed that in the movie Cesar Chavez, that Filipino American labor leader Larry Itliong was given the role of a spear-carrier. 
I'm not sure his name was mentioned at all during the biopic of Chavez He just hung out in the background while the camera focused on the great union leader..
("Spear carrier" is the older version of what we now call "red shirts." In Hollywood's old biblical epics spear carriers were used as background, like a piece of furniture or painting on the wall. Their modern equivalent are the red shirts, derived from the Star Trek television series. Those crewmen who wore red shirts had no name and if shooting were to ensue, they would be the first to be hit.)
Larry Itliong's name and deeds should be just as celebrated and held in reverence — though the rough-around-the-edges Itliong would the first to blanch at that — as we hold Chavez' name in esteem.
In California, legislation in 2015 by Assemblymember Rob Bonta, the only Filipino American in the state's legislature, made Itliong's birthday, Oct. 25,  a day to recognize the historic figure and his role in shaping California and the Filipino American community of today.
Larry Itliong Day is taking a while to get recognized. Celebrations (see below) throughout the state have been few. 
Itliong, also known as "Seven Fingers," was a Filipino American labor organizer whose story is not as well known as others but is just as important to our history. 
It's been said that Cesar Chavez inspired the world but that Larry Itliong inspired Cesar Chavez. In an era known for civil rights movements, Itliong fought for better working conditions for farmworkers.
He came to the U.S. in 1929 when he was 15, never having slept in a bed or lived in a home with electricity. He was a natural activist and worked as a laborer and a farmhand in several states. 
Itliong first joined striking lettuce workers in Washington State. Later, he fished in Alaska and organized the cannery workers there. It was also in Alaska that he lost three fingers in an accident in a cannery, earning him the nickname "Seven Fingers." 
Itliong went on to organize Filipino farmworkers as they followed the seasonal harvests of grapes, raisins, brussel sprouts and other crops across Central California. 
The historic strike vote led by Itliong and the Agricultural Workers Organizing Committee took place on Sept. 8 1965 and was soon joined by the Chavez-led National Farm Workers Association. Five years later, they formed the powerful United Farm Workers and forever changed the face of agricultural labor in California. 
Itliong spent his life standing up for his belief that "everyone has equal rights and justice, but you have to make that come about." He died on Feb. 8, 1977, leaving a legacy of activism for later generations of Filipino students, housing advocates, doctors, CPAs, nurses, tech workers, home care and domestic workers.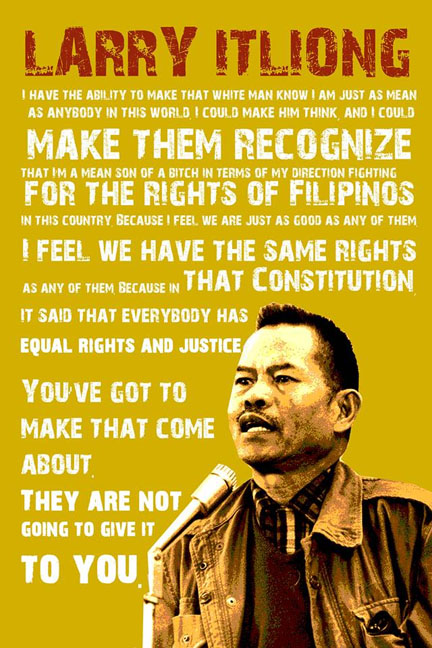 Upcoming Lary Itliong Celebrations:
Carson: Oct. 26., 8 a.m. – Noon. Veterans Park, 22400 Moneta Ave.
Los Angeles: Oct. 24, 5 – 7 p.m.
California State University Student Union, 5154 State University Dr.
Larry Itliong Day Festival 2019: Oct. 26, 1 – 5 p.m.Unidad Park & Community Garden, 1644 Beverly Blvd
Larry Itliong Journey for Justice Book Tour
Oct. 26, 6 – 7 p.m.
Unidad Park & Community Garden, 1644 Beverly Blvd
AsAmNews has Asian America in its heart. We're an all-volunteer effort of dedicated staff and interns. Check out our Twitter feed and Facebook page for more content. Please consider interning, joining our staff or submitting a story.