Dr. Raymond Douglas Chong (Zhang Weiming)
Prelude
Longtime San Franciscans may remember Eddie Pond's Kubla Khan Theater Restaurant as one of the hot spots in the city. Located at the Gateway of San Francisco Chinatown from 1944-1950 during the "Golden Age" of Chinese nightclubs, couples snuggled there on a night of romance and dancing. Other Chinatown nightclubs at the time included Charlie Low's Forbidden City, Andy Wong's "Chinese Sky Room," and Fong Wan's "Club Shanghai."
Americans flocked to the Chinese nightclubs to dine, dance, and entertain in these popular elegant venues. They were glamorous and fancy places to indulge in Chop Suey dishes and in cocktails. Ladies and gentlemen wore chic élan in stylish flair during those magical evenings. The cabarets were a wonderland of huge ballroom with hardwood floor under heavy haze of pungent cigars and cigarettes and alcoholic aromas of hard liquor. Singers, dancers, chorus girls, magicians, acrobats, strippers, and musicians exuberantly performed nightly.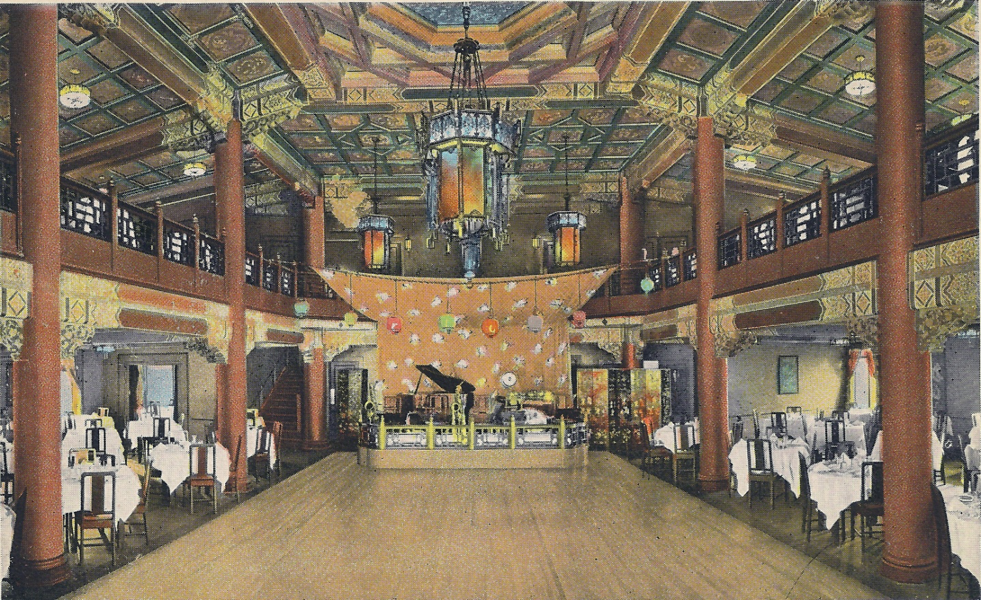 Kubla Khan Theater Restaurant
Eddie Pond opened the Kubla Khan, his elaborate cabaret, on October 31, 1944, on Halloween evening during World War II. The Kubla Khan was a Chinese theater restaurant and nightclub with a cocktail bar on 414 Grant Avenue near Bush Street.
Pond named his theater after a classic poem composed by Samuel Taylor Coleridge in 1816, "Kubla Khan, or a Vision in a Dream. A Fragment." Pond took the title from the Mongol and Chinese emperor Kublai Khan of the Yuan dynasty.
Kubla Khan became famous for its stage performances and wonderful bands. Patrons came to the 225 seat theater for dinner, dancing and a floor show. Customers chose from either Chinese or American dishes for dinner. Performers from all-Chinese revues dazzled with a mixture of vaudeville and burlesque showcasing a marvelous spectacle with the splendor of a Chinese motif along with sumptuous foods.
Eddie Pond advertised Kubla Khan as "San Francisco's most exciting Chinese theatre restaurant. Always a showman, Pond turned his nightclub into a swank and sophisticated venue for dining, dancing and entertainment. Everyone enjoyed the velvety evening of Chinese enchantment, the aura of mysterious sizzle and dazzle. It provided American men and woman a high time of Chinese sensuous pleasure.
At the Kubla Khan, the dining room and dance floor was in front of the stage on the second floor with a balcony on third floor. A check girl took in the hats and coats of the patrons. A cigarette girl sold various American brands of cigarettes and cigars. A lady photographer offered souvenir photos to patrons for their memories and placed them in the folders. Cocktail waitresses served tasty drinks. The bartender was always busy mixing house cocktails at the bar near the cocktail lounge.
Chop Suey Cuisine
Patrons enjoyed Cantonese style cuisine from Kwantung (Guandong) with the very Americanized chop suey becoming the most popular dish. It was a smorgasbord of various fresh vegetables with bits of meat. At Kubla Khan, patrons sat either at round or at square wood tables with a white linen cloth. They ate their meals under the flickering glow of candle lamps.
Diners ordered up the signature chop suey dinner, the Kubla Khan De Luxe made up of relishes, egg flower soup, almond chicken, fried prawns, egg foo yun, chicken chow mein and steam rice. Their desserts included Chinese Candies and Fortune Cake or Sesame Cookies. The delicious foods were quenched with tea of coffee for a price of $3.00.
The signature American dinner included: relishes, Soup Du Jour, Chef's Special Salad, Sirloin Steak, Half Fried Chicken Hotelier, Chicken Sauté Chasseur, and French Lamb Chops on Toast. Desserts included ice cream or sherbet with cakes, assorted cheeses with crackers, and pies in season. They were quenched with coffee, tea, or milk for a price of $3.00.
Kubla Khan offered a fine assortment of wines and cocktails, imported and domestic. They included champagnes, red wines, white wines, mineral water, beer and cocktails. Cocktails with mixed drinks, after dinner, rums, scotch whiskeys, bourbon whiskeys, Irish whiskeys, gins and liqueurs whetted the thirst of patrons.
Dance
After the sumptuous dinner of chop suey and American dishes, the patrons gaily danced on the hardwood floor. Couples tightly held their arms in intimate embraces. Bill Oetke and his Rumberos, the Latin band, played nightly as "King of the Rumberos" with loud percussion instruments. Latin music was in vogue with influence in Mambo from Cuba. Eddie Pond played instruments with the Latin band. He was jovially known as "The Chinese Demon of the Maraccos."
Entertainment
The "A Night in Chinatown" program exclusively catered to the sensibility of Americans, with a mixture of vaudeville and burlesque. At the nightspot, Eddie Pond had three one-hour shows.
Eddie Pond was a colorful personality and an enigmatic individual. He suavely emceed and gleefully performed on the stage with the various acts. He presented the program with a Latin theme "All Chinese Revue."
The program had nine acts:
Street Scene
Chinese Sleeve Dance
Chinese Lullaby
Coolie Dance
Sing Lee Sings – Chinese Acrobats
Sing Song Girls
China's Dancing Sweethearts
Oriental Interlude
China Conga
The program featured many star performers May Lee, known as the "exquisite Chinese star of operetta, stage & screen," sang in the program. Sing Lee Sings Troupe performed their circus acrobatics as "acrobatic sensations of four continents."
Jadin (Wong) and Li Sun gracefully danced as "America's romantic Chinese artists of the modern ballroom dance." Iris Wong, the exotic dancer, performed her "fan dance" in Oriental Interlude before the finale, China Conga. The Kubla Beauties agilely and adroitly performed with their svelte physique. The beautiful chorus girls wore stylish costumes that were simply made for glittering fashion.
Walton Biggerstaff was the producer and choreographer.
Other famous entertainers performed at the Kubla Klan as part of the Chop Suey circuit.
Noel Toy performed as an exotic dancer, nightly at the Kubla Khan for Eddie Pond. She seductively mesmerized the audiences with her famous fan dance and bubble dance, with just ostrich feathers and a big balloon. She was billed the "Chinese Sally Rand," a well-known burlesque dancer.
Eleanor Young hummed her Latin songs. Larry Ching, "The Chinese Frank Sinatra," coolly sang romantic tunes. Frances Chun was a torch singer. Tony Wing, "The Chinese Fred Astaire," graced the hardwood floor with his amazing tap dance routines. Barbara Yung and Coby Yee, the exotic dancers, erotically inspired the audiences. Jimmy Borges, "Keeper of the Flame," the Hawaiian, crooned his jazzy songs. Princess Loo Hing and Ah Hing cast their magic.
Eddie Pond greeted Hollywood greats, Broadway stars and other celebrities to his palace of grandeur. They included burlesque dancer Sally Rand, actor/director Orson Welles and bandleader Kay Kyser.
Epilogue
At the end of 1950, the short era of Eddie Pond's Kubla Khan Theater Restaurant abruptly closed in bankruptcy. It faded into the dim memories of The Golden Age of the Chinese Nightclubs. The Kubla Khan at the Gateway of San Francisco Chinatown remains a lost legacy in chop suey cuisine and Chinese American nightclub entertainment.
AsAmNews has Asian America in its heart. We're an all-volunteer effort of dedicated staff and interns. Check out our Twitter feed and Facebook page for more content. Please consider interning, joining our staff or submitting a story.