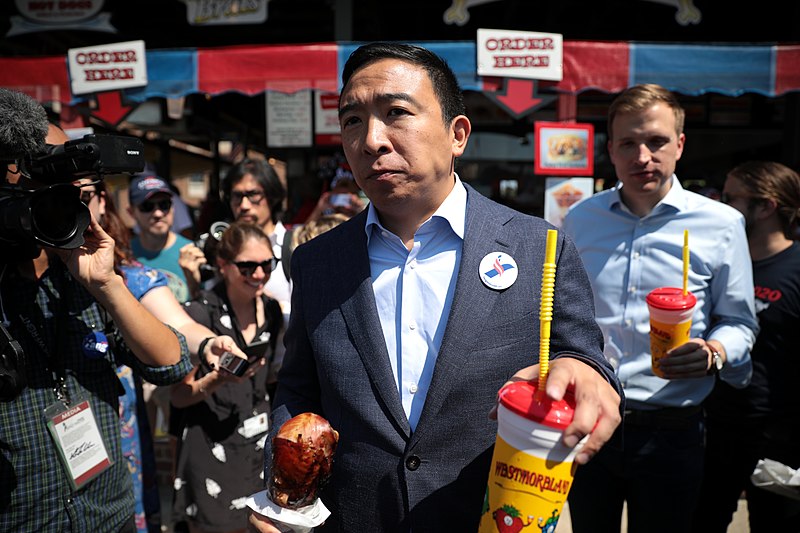 For the first time in this long primary season, a national media outlet as admitted that Andrew Yang has a fighting chance to win the Democratic nomination to run against Donald Trump. Buzzfeed's headline, "Andrew Yang Could Win This Thing" comes after fundraising figures were released Thursday that showed the candidate's campaign raised $16.5 million in the last three months of 2019, which should be enough to allow him to stay in the race all the way to the Democratic Convention this July in Charlotte, North Carolina.
"I tweeted a while ago that this is the simulation where we win — and that's what it feels like now," Andrew Yang told Buzzfeed Editor-in-Chief Ben Smith between campaign stops in New Hampshire Thursday night. "I get asked all the time whether I expected to be here," Yang said. "And the truth is that I did."
Yang's surprising showing — most pundits didn't expect him to be around at this stage of the game — might be an indication that donors, and perhaps voters, are not satisfied with the top tier candidates, Joe Biden, Bernie Sanders, Elizabeth Warren and Pete Buttigieg. For those doubters, Yang, who regularly polls better than season politicians Cory Booker, Amy Klobucher and Tulsi Gabbard and billionaires Tom Steyer and Michael Bloomberg, may be an option. He is definitely not a conventional politician and hasn't fully embraced the far-left policies to which the GOP has attached the socialist label.
Realistically, Yang still has big hurdles in front of him. He needs to expand his base, mostly made up of young males and Asian Americans, according to AAPI Data. Besides the doubters, his campaign is hoping to attract those Trump voters who regret their 2016 choice and "It's a completely new universe that we are speaking to," said his campaign chief Nick Ryan, who pointed to some 400,000 individual donors.
"No matter how passionate a small base of support is — they're not going to get you $16 million. These are folks who aren't all on blue-hat twitter." One of Yang's senior aides summed up to Buzzfeed that Biden, Warren, and Sanders "are running like it's 1996." Buttigieg and Amy Klobuchar, the aide said, "are running like it's 2008. We're running like it's 2030."
Buzzfeed concludes: "He's got a shot." A long shot to be sure, but if the stars align and he finishes strong in Iowa in New Hampshire, Yang may still have more surprises up his sleeve.
AsAmNews has Asian America in its heart. We're an all-volunteer effort of dedicated staff and interns. Check out our new Instagram account. Go to our Twitter feed and Facebook page for more content. Please consider interning, joining our staff or submitting a story.