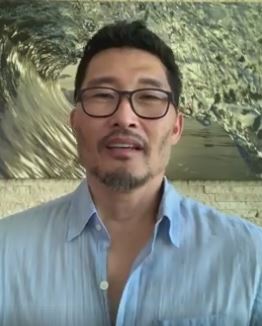 By Louis Chan, AsAmNews National Correspondent
Actor Daniel Dae Kim declared himself virus free from coronavirus today, 11 days after announcing on social media he had tested positive.
Kim acknowledged he had suffered a setback. He said on March 20 he began feeling sluggish and lost his sense of smell. This was quite a turnaround from just one day earlier when he felt much healthier.
These new symptoms were called post-viral inflammation.
The good news is "I am now considered virus free. My required period of self-isolation has ended and I've been released into the wild of my very own home. Now I'm free to explore exotic places like my living room, and do daring things like take out the garbage and walk my dog," he joked.
He also urged people not to be alarmed if they saw him out in public.
He thanks all those who wished him well through all of this. He implored his followers not to horde medicine and assume that the medications that worked for him will work for others. He warned about side effects of certain medicines and advised against anyone self-medicating which he said can be fatal.
"Please be safe," Kim said.
He called it "disheartening to see the hate and divisiveness he's seen on social media.
"No matter how serious things have gotten over the past few week, there's still time to help. Still time to be our best. Let's do everything we can to look back on this time in history and say we beat this virus together," he concluded.
"My love and prayer to all those who are fighting this disease and to those that have lost loved ones. Mahalo."
AsAmNews has Asian America in its heart. We're an all-volunteer effort of dedicated staff and interns. Check out our new Instagram account. Go to our Twitter feed and Facebook page for more content. Please consider interning, joining our staff, or submitting a story.