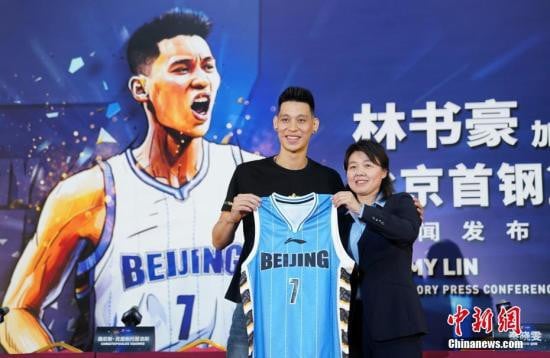 Asian Americans and Pacific Islanders aren't letting the pandemic stop AAPI Heritage Month which kicks off this Friday, May 1.
Basketball star Jeremy Lin along with actor Maulik Pancholy will hold a virtual conversation together with Act to Change to kick off the Month. You can catch it on AsAmNews Facebook page beginning at 8 pm Eastern/5pm Pacific Friday.
The event is part of Act to Change's continuing Covid-19 Convos to discuss ways in which parents, educators, students, and community members can come together to combat the increasing anti-Asian racism during the Covid-19 pandemic.
Lin has been vocal about the bullying and racism he's faced on and off the court, and is no stranger to feeling like a foreigner in his own country.
"I grew up and played basketball in America and all anyone wanted to tell me is that I wasn't American. Now I'm playing basketball in China and I'm considered a foreigner. I'm just as confused as everybody else."
Crazy Woke Asians is celebrating Asian Pacific Heritage Month with a three day virtual comedy festival on Mother's Day Weekend May 8-10.
Comedians will be joining from LA, NY, Chicago, Seattle, UK, Hong Kong, Australia and more. Some 90 performers are scheduled.
Asians Never Die, RiceFeed and Unexpected Productions Seattle Improv School are also joining in the fun.
Tickets are on sale via Eventbrite.
The Center for Asian American Media continues its 40 year tradition by taking its annual film festival virtual. The San Francisco Bay Area event will now be available for the world to enjoy.
The festival opens with Lynn Chen's long-awaited completion of her Surrogate Valentine trilogy, I Will Make You Mine on May 13. Three women wrestle over the same man while dealing with the baggage of past relationships and the difficulties of everyday life.
The festival closes May 22 with the 10th anniversary showing of H.P. Mendoza's Fruit Fly. The film highlights what it means to be gay and Asian in the Hispanic neighborhood of San Francisco's Mission. The virtual audience will be encouraged to participate in this musical as this is the sing-a-long version of the film.
CAAMFest will also showcase a performance from Musician Ruby Ibarra on May 19. The performance from the rapper and spoken word artist will be followed by a sit down discussion.
The following day on May 20 there will be an interview with filmmaker Alice Wu who just released her film The Half of It on Netflix.
In all there will be more than 20 digital events. For a full schedule of performances and events, go to CAAMFest.com.
AsAmNews has Asian America in its heart. We're an all-volunteer effort of dedicated staff and interns. Check out our new Instagram account. Go to our Twitter feed and Facebook page for more content. Please consider interning, joining our staff, or submitting a story.