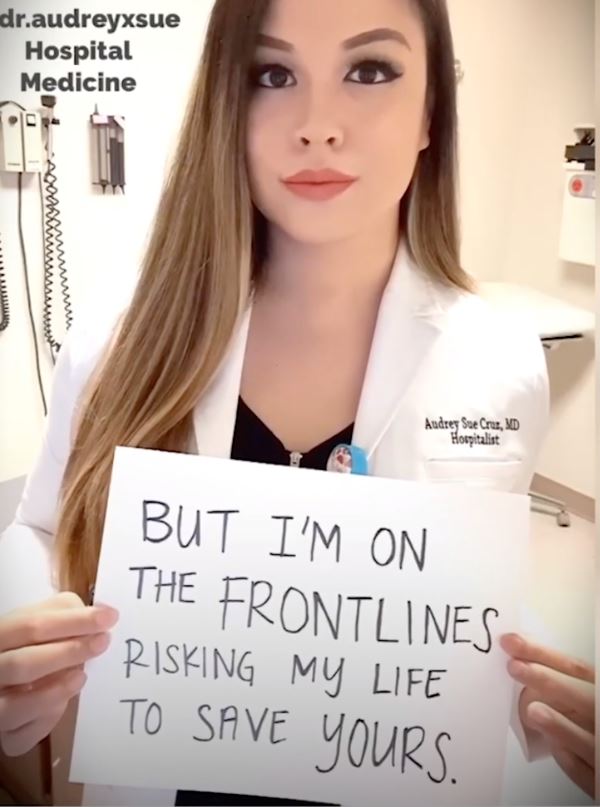 Asian American health care professionals working on the frontlines of COVID-19 are addressing the surge in anti-Asian discrimination in a new viral video, reports ABC.
According to Good Morning America, Dr. Audrey Crux of Loma Linda, California, and Dr. Christina Chen of Rochester, Minnesota, collaborated in recruiting the physicians who were featured in the Instagram video.
Throughout the video, each Asian American health care worker holds up a sign revealing the various racist comments they have encountered as well as their responses to these displays of hate.
One individual holds up a sign that displays the comment "you're a selfish disease carrier!" and then responds with her own message, "But I'm on the frontlines risking my life to save yours."
As reported by the Asian Pacific American Labor Alliance, there are over 2 million Asian American and Pacific Islander workers on the frontlines of the COVID-19 crisis. Forbes gives additional statistics: 17% of doctors, 9% of physician assistants and nearly 10% of nurses in the United States are of Asian descent.
However, since the virus' outbreak in Wuhan, China, Asian Americans have become targets of increasing verbal and physical assaults, often being vilified and blamed for the pandemic.
In light of President Donald Trump and his administration's referral to COVID-19 as the "Chinese Virus," "Wuhan Virus," and "Kung Flu," Chen expressed that such rhetoric stigmatizes Asian Americans and carries grave consequences.
"The problem with that is it creates a sense that China is the only place to blame," Chen told ABC. "Ultimately it creates a label. It creates a target to spark finger pointing and ultimately that turns into hate."
Public health experts have voiced similar concerns about using terms such as "Chinese Virus" to refer to COVID-19, warning that it could lead to increased racial profiling.
"Viruses know no borders and they don't care about your ethnicity, the color of your skin or how much money you have in the bank. So it's really important we be careful in the language we use lest it lead to the profiling of individuals associated with the virus," Dr. Mike Ryan, the executive director of WHO's emergencies program, said at a news conference when asked about the implications of Trump's comments, reports CNBC.
Chen shared that the goal of the video is to humanize frontline workers and foster empathy and understanding.
"We're hoping that this can spark fundamental changes that will occur behind the mentality of racial discrimination," she said. "It's really important that we listen to others, and learn from others."
Cruz, who reportedly shared the Instagram video with her 103,000 followers, said she's overwhelmed by the groundswell of support and positive responses from Asian Americans. The video has garnered over 25,000 views.
"As healthcare professionals and physicians we take an oath to do no harm," Cruz said. "Our patients, we treat them for their medical conditions and we do what we can to save lives. As physicians, we don't stop. [Regardless of] what your race is, we'll treat you no matter what."
Chen said she hopes the video is a reminder that "heartfelt change within ourselves" can stop discrimination.
AsAmNews has Asian America in its heart. We're an all-volunteer effort of dedicated staff and interns. Check out our new Instagram account. Go to our Twitter feed and Facebook page for more content. Please consider interning, joining our staff, or submitting a story.